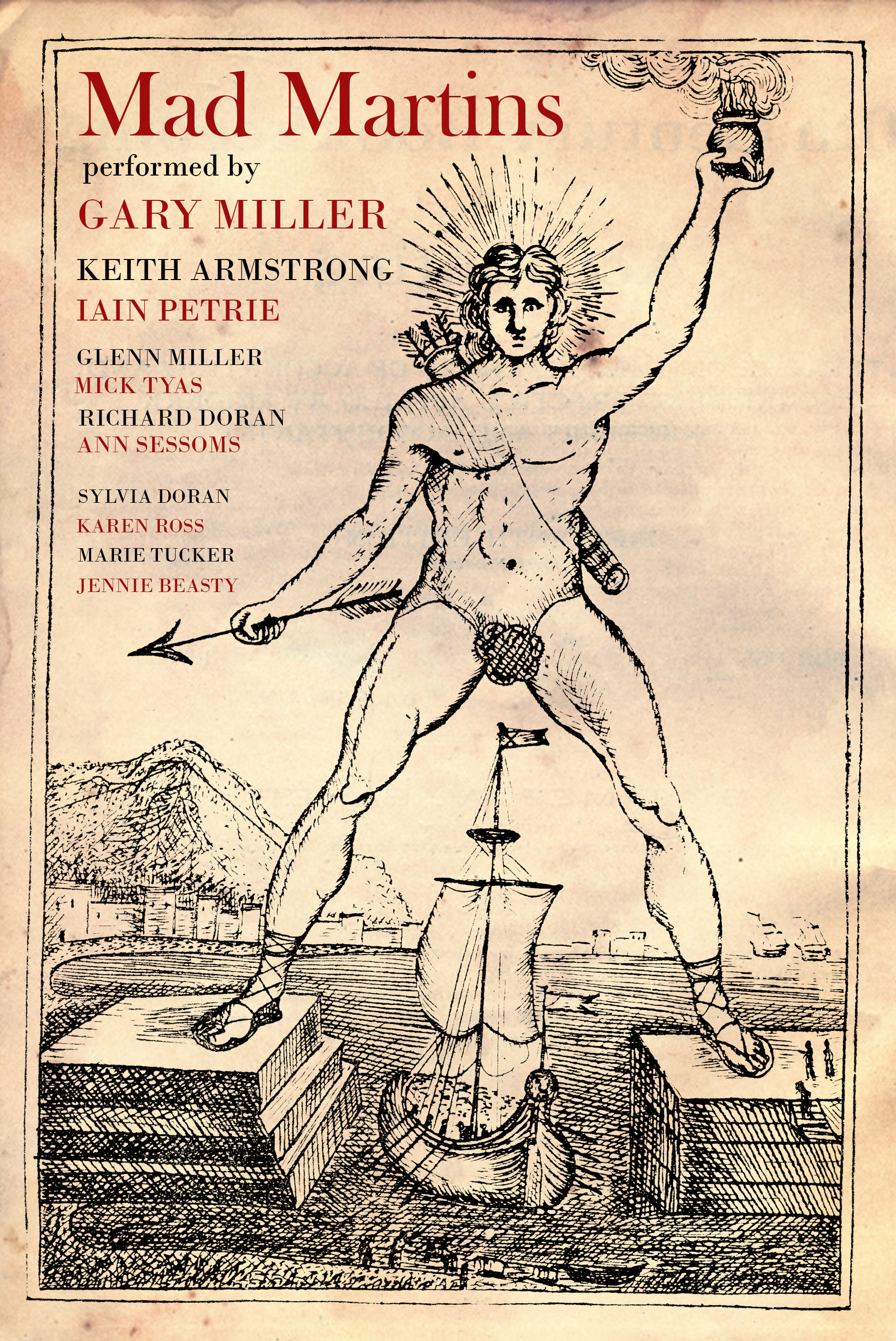 Mad Martins
is available as an epic 50-track triple CD by
Gary Miller
with
Keith Armstrong
,
Iain Petrie
& Friends
, housed in a lavishly-packaged 104-page Deluxe Book designed by
Helen Temperley
 containing lyrics to all the songs, poems and spoken-word pieces, with additional interlinking text and many beautiful images, including paintings, engravings, sketches, illustrations, and original artwork, further enhancing the story.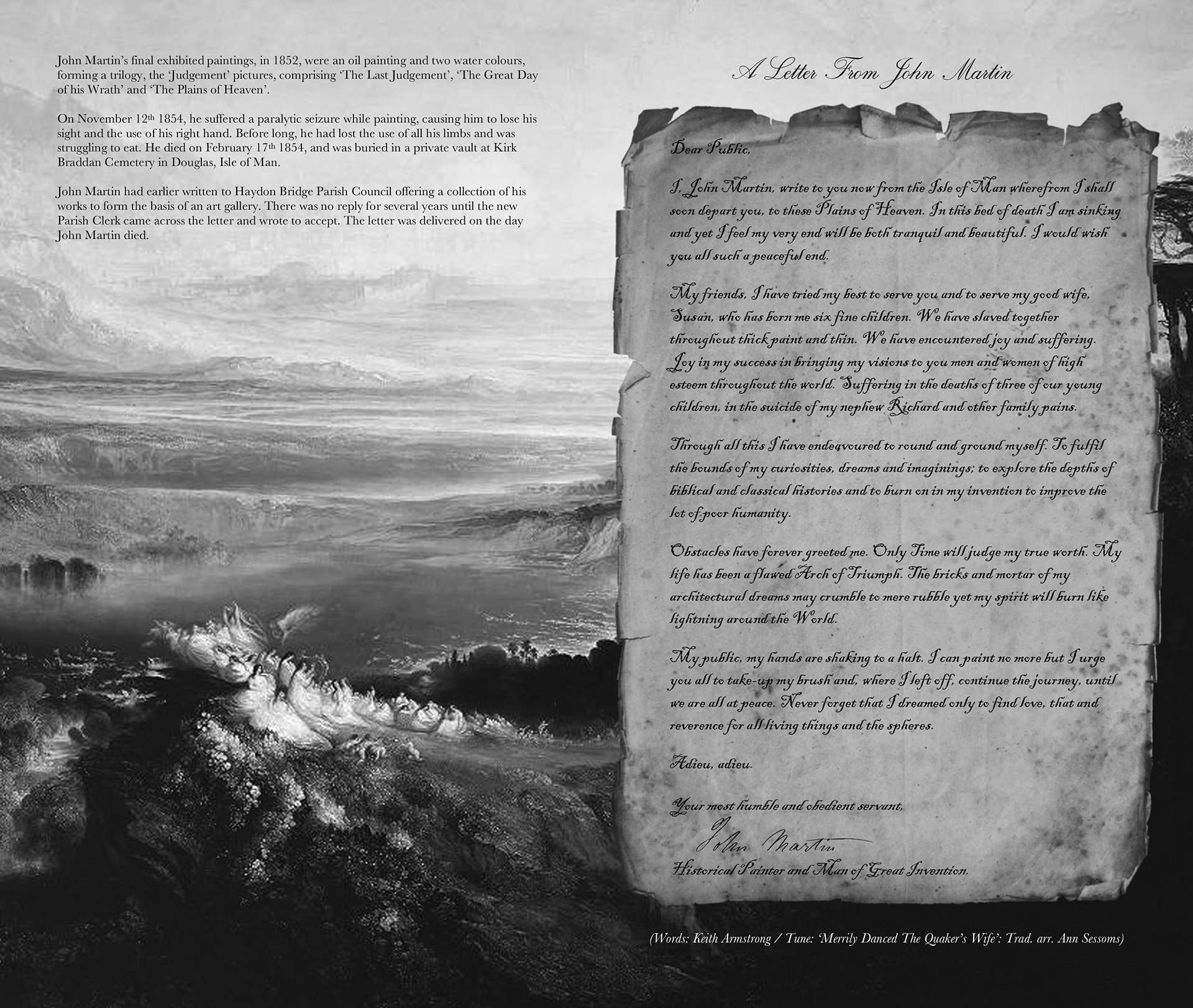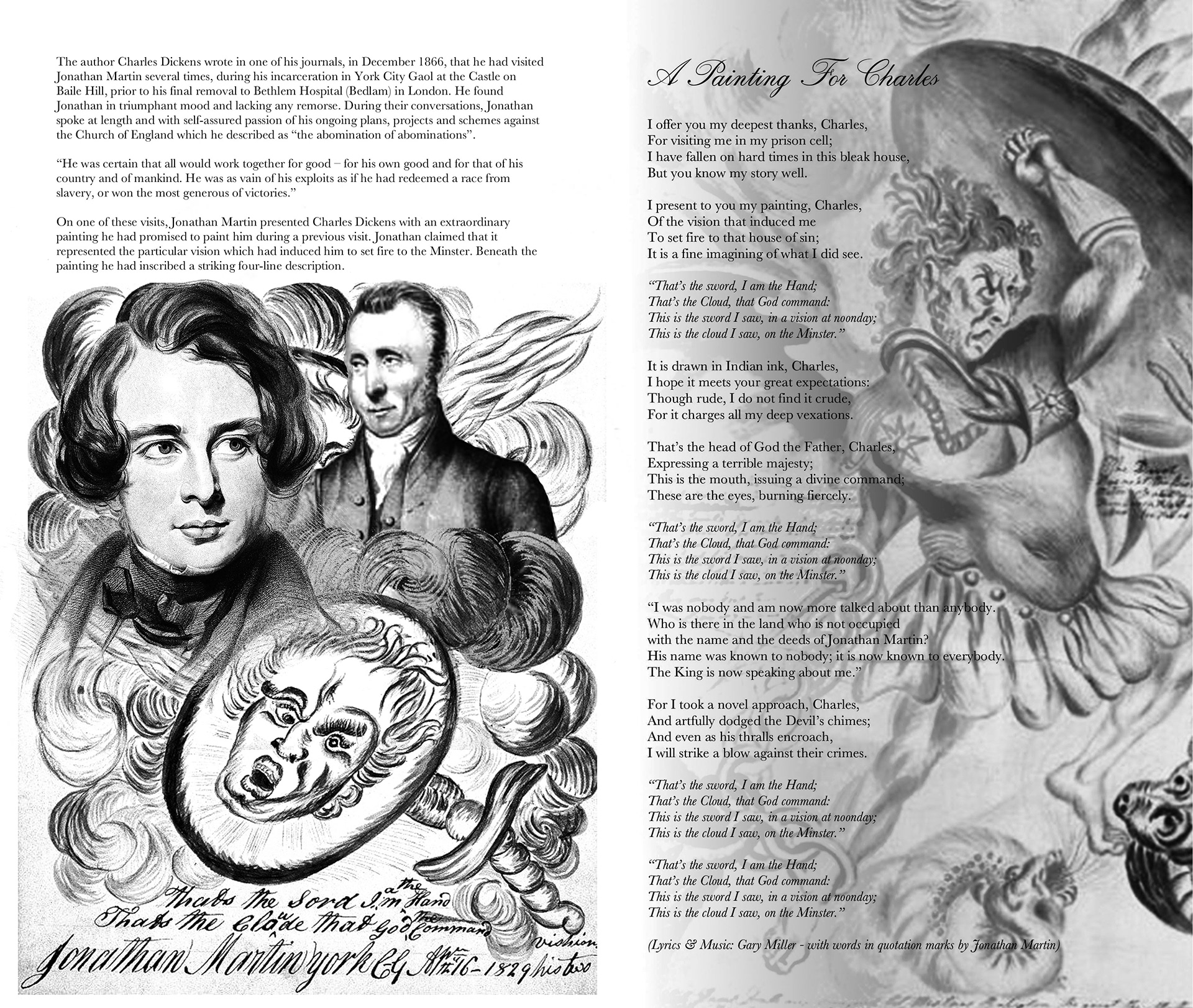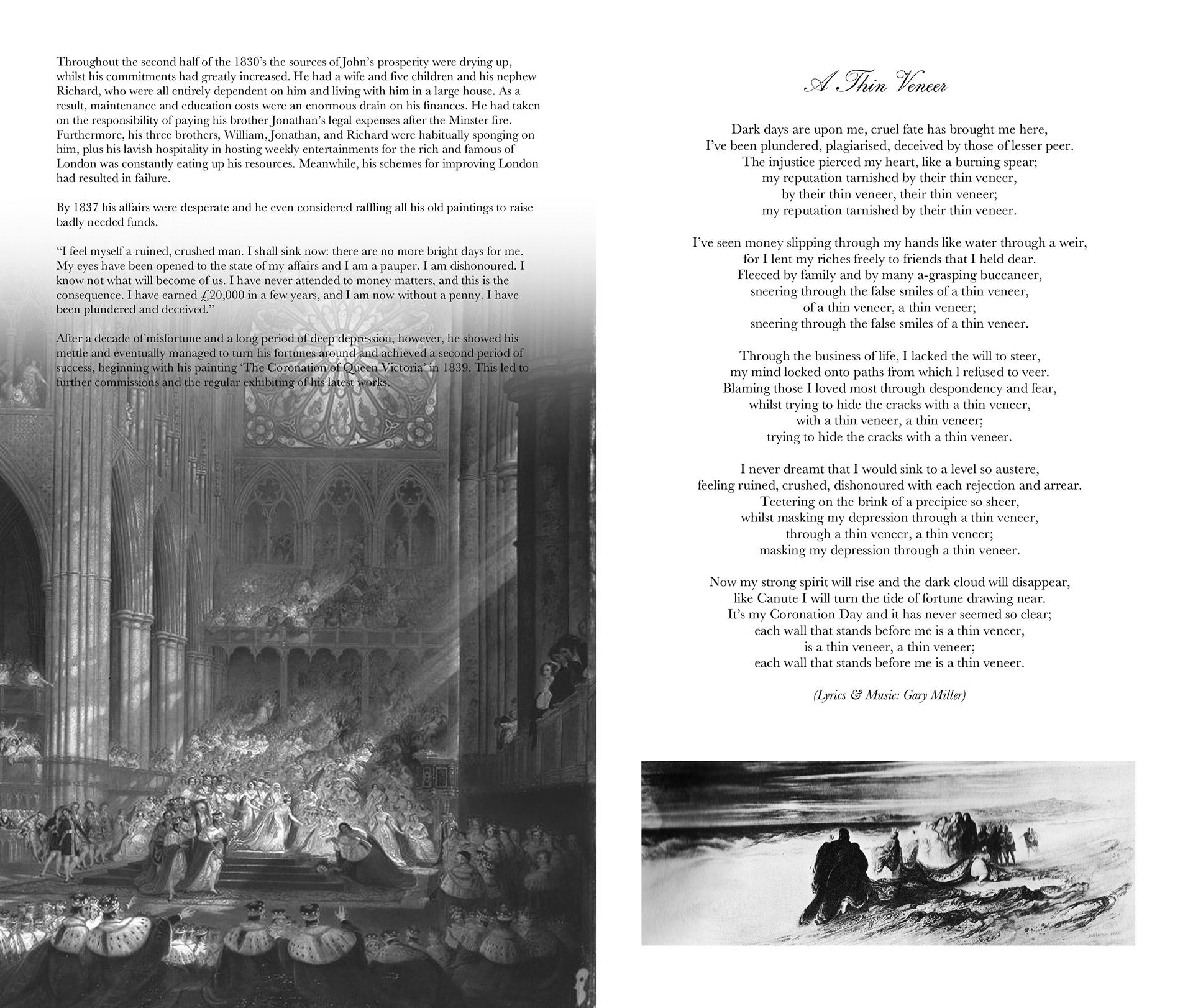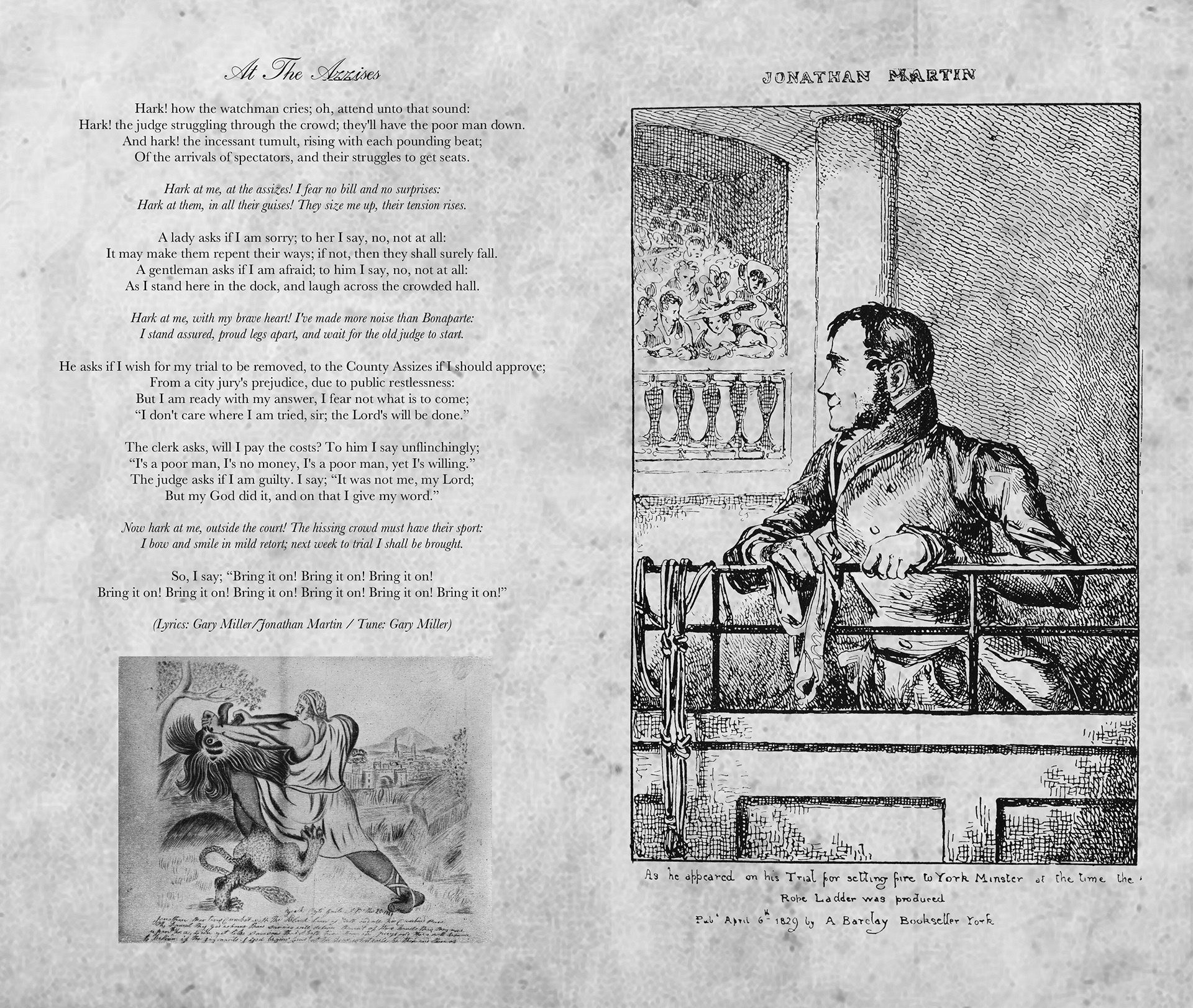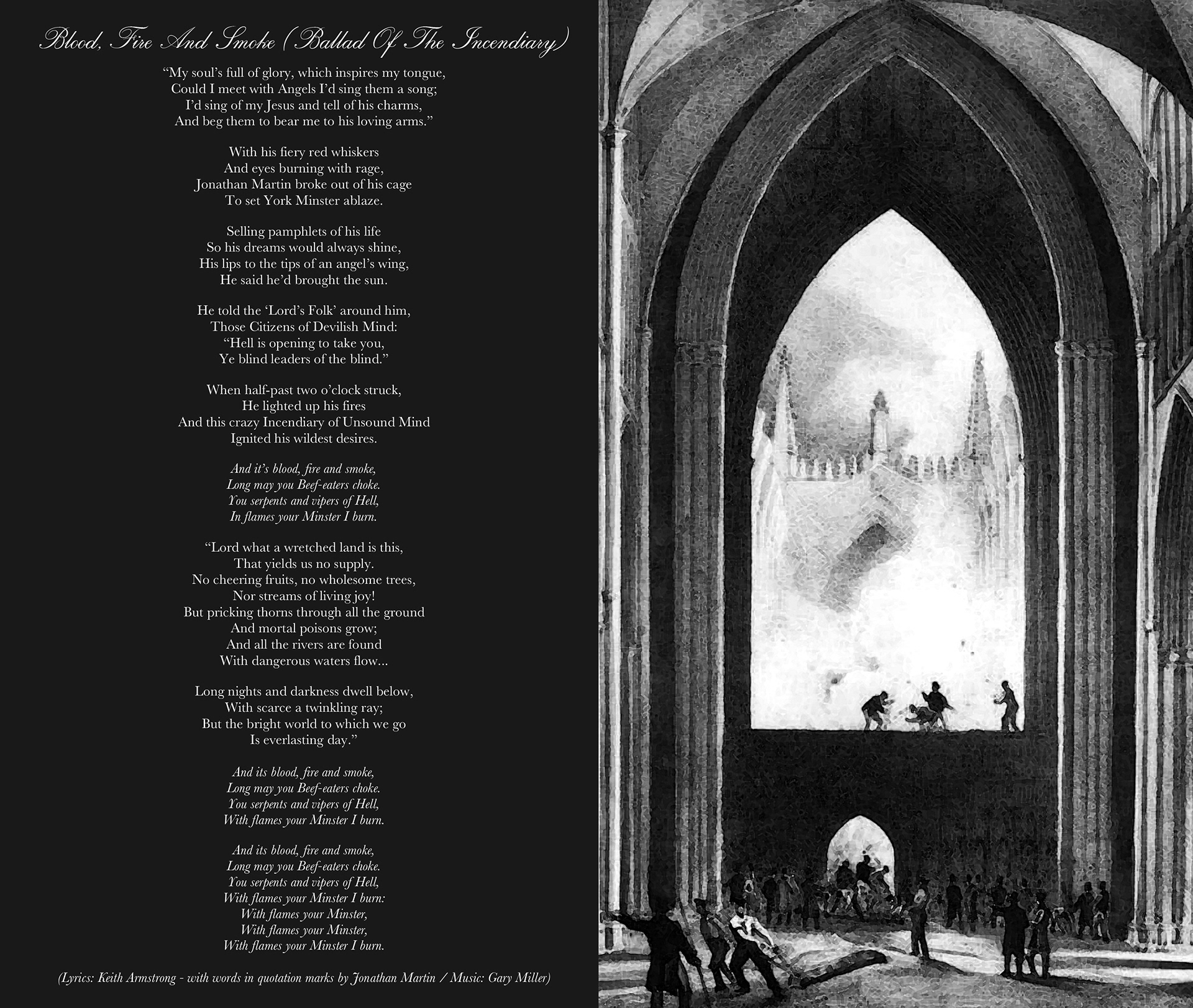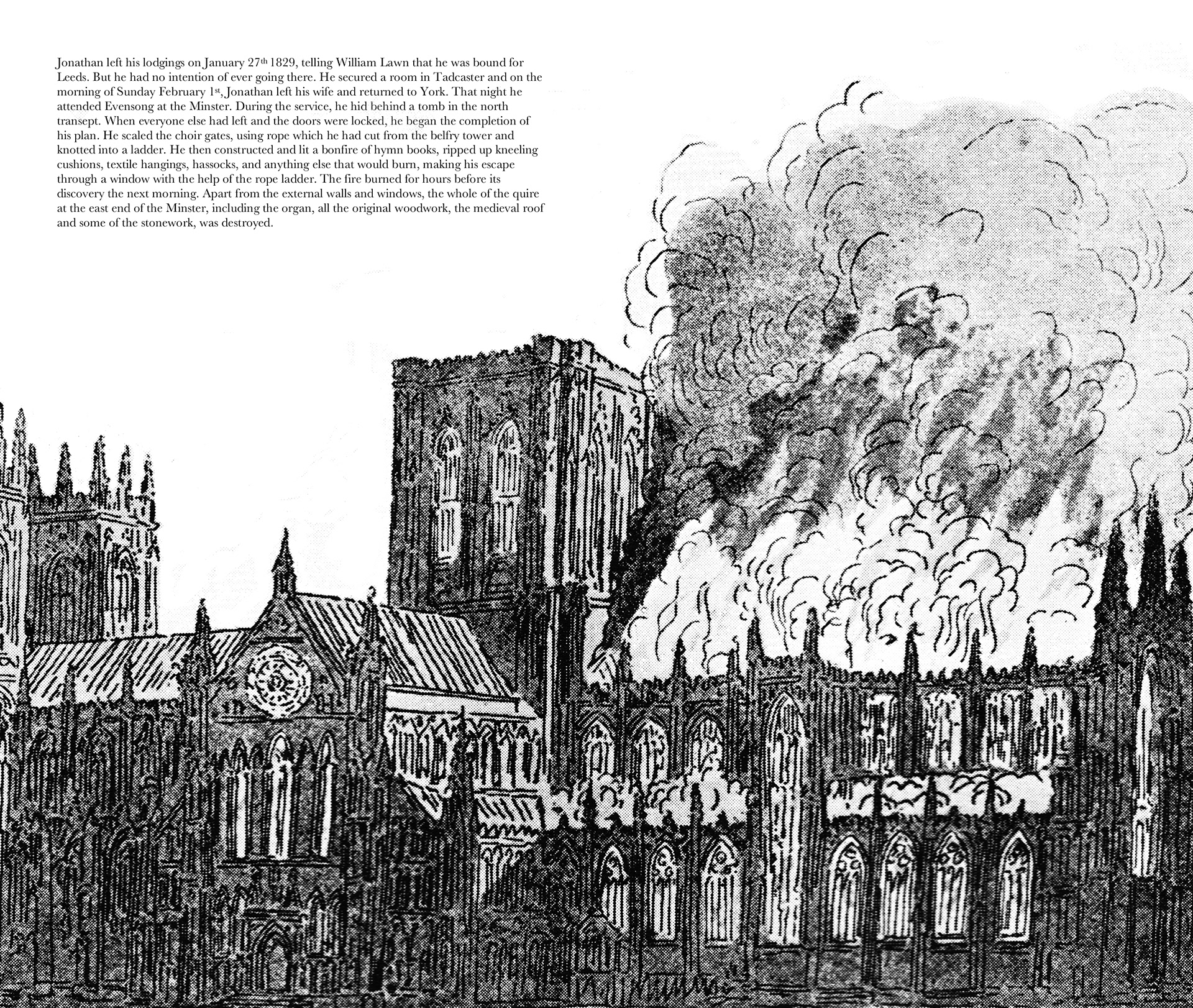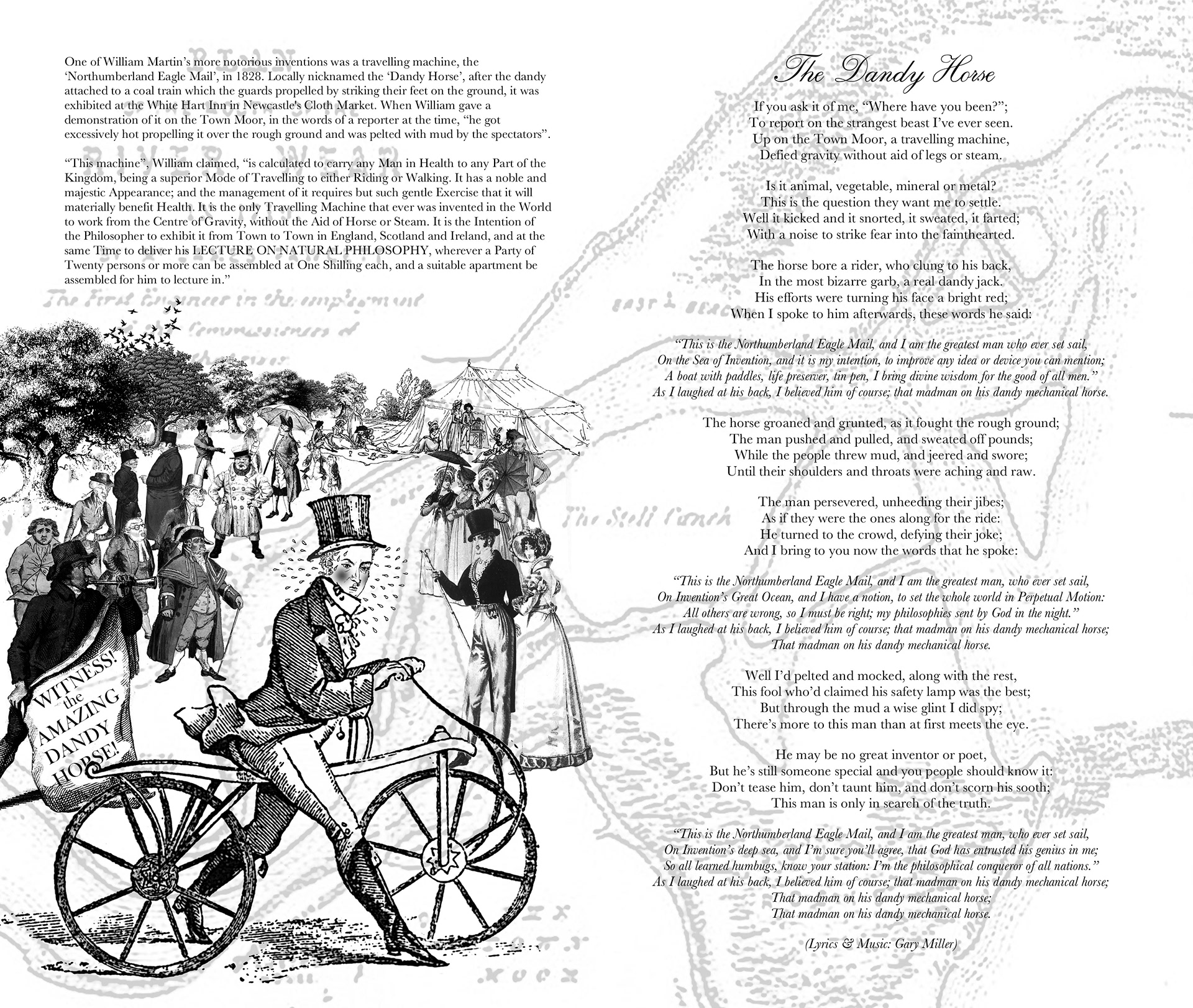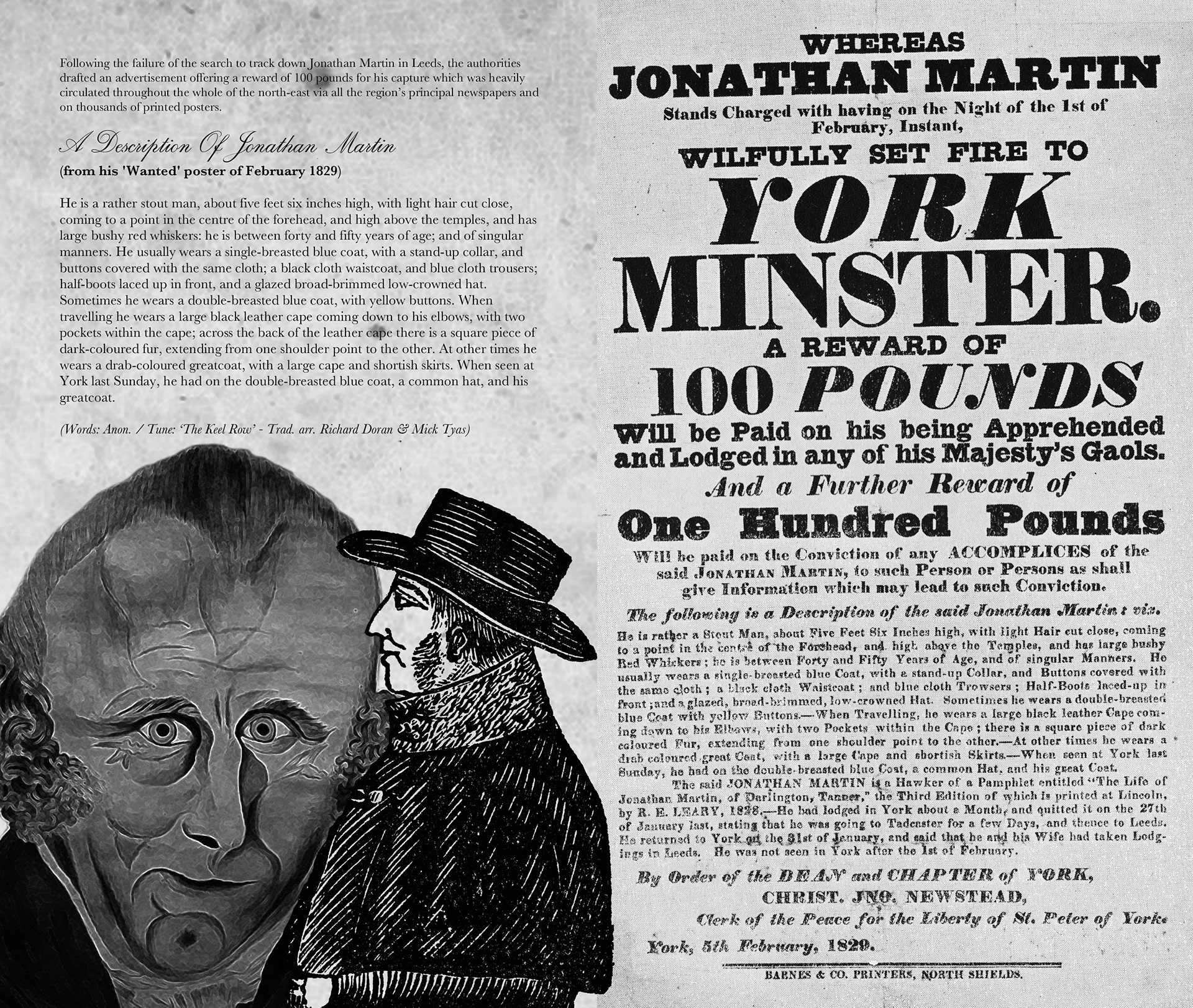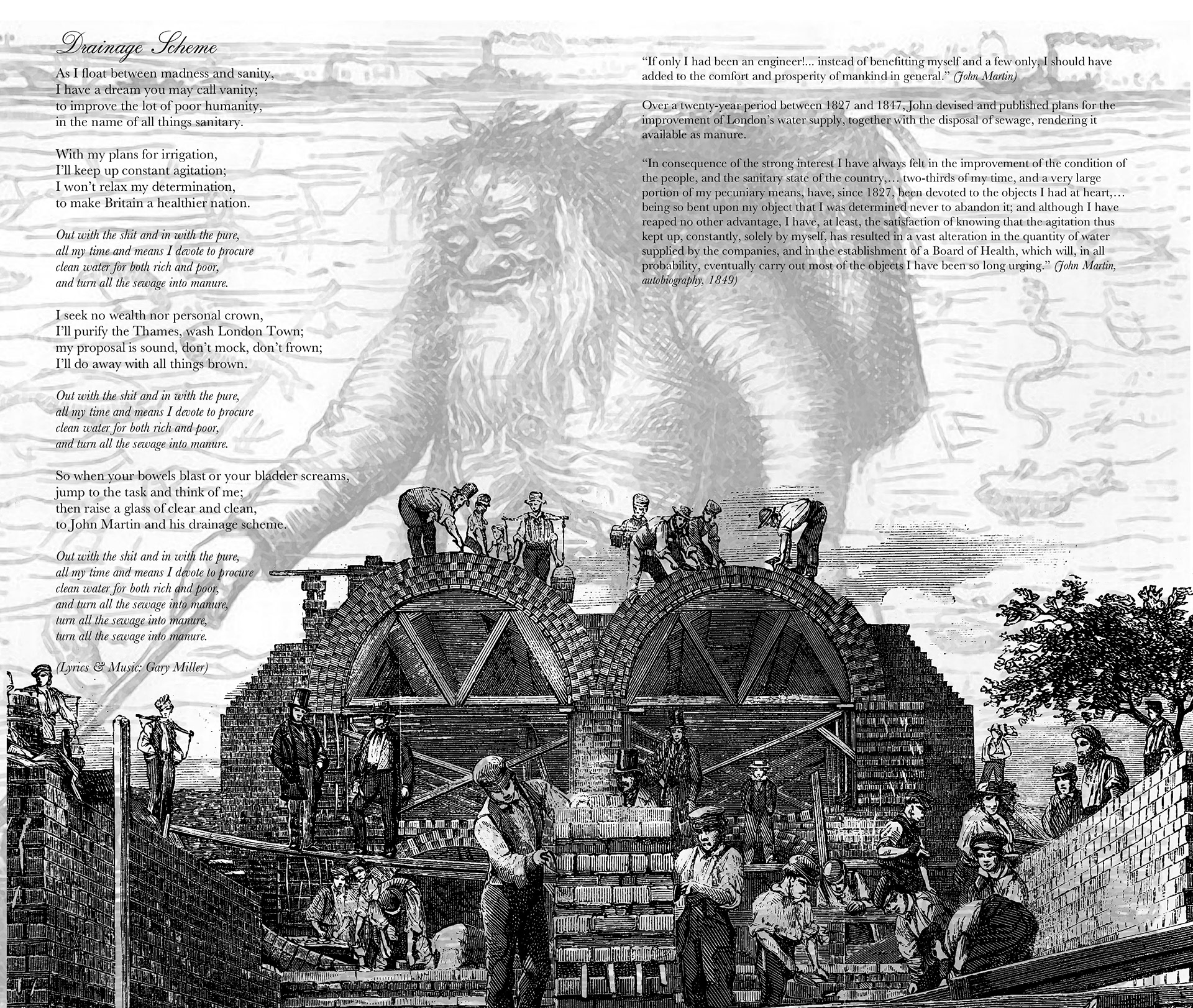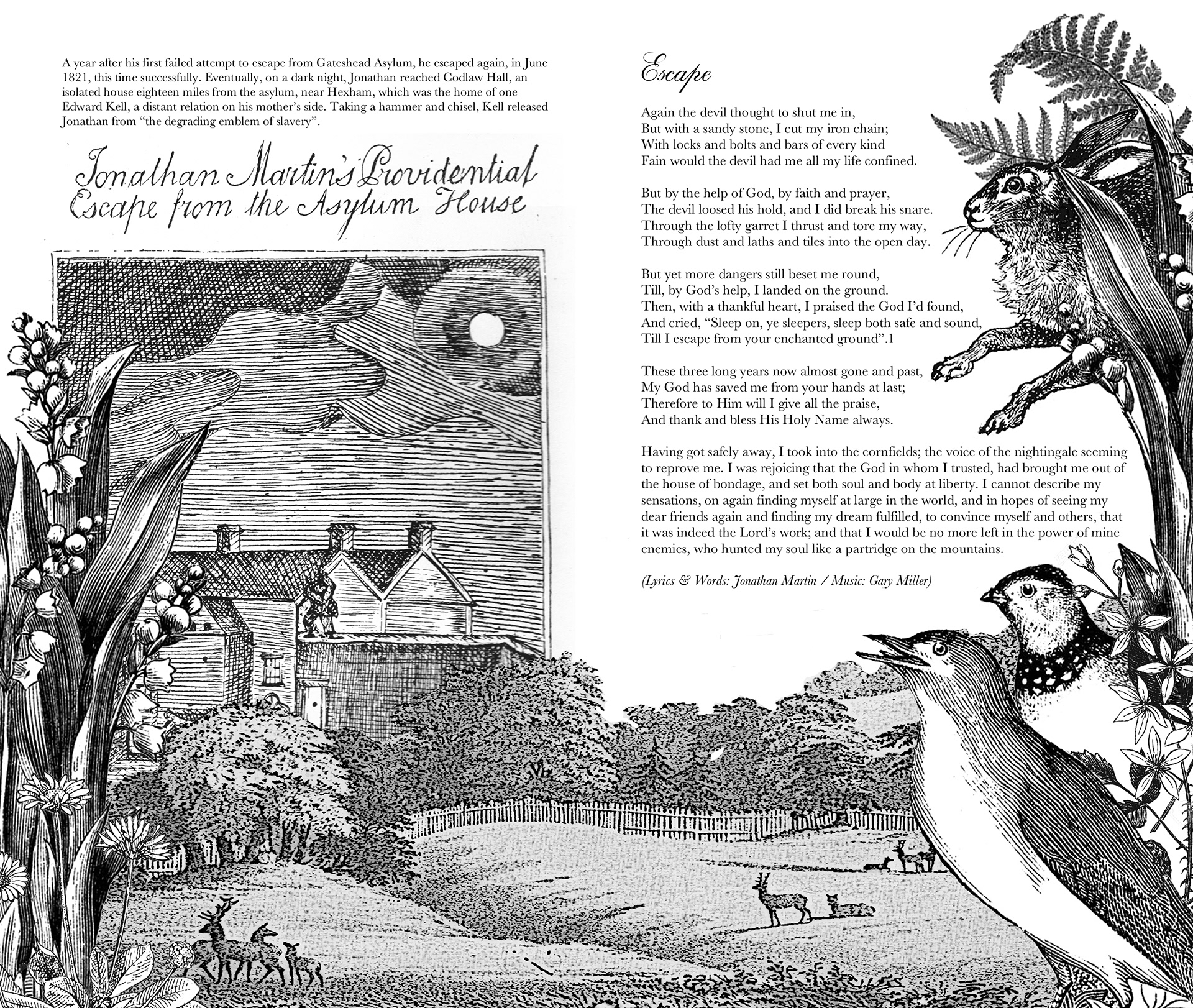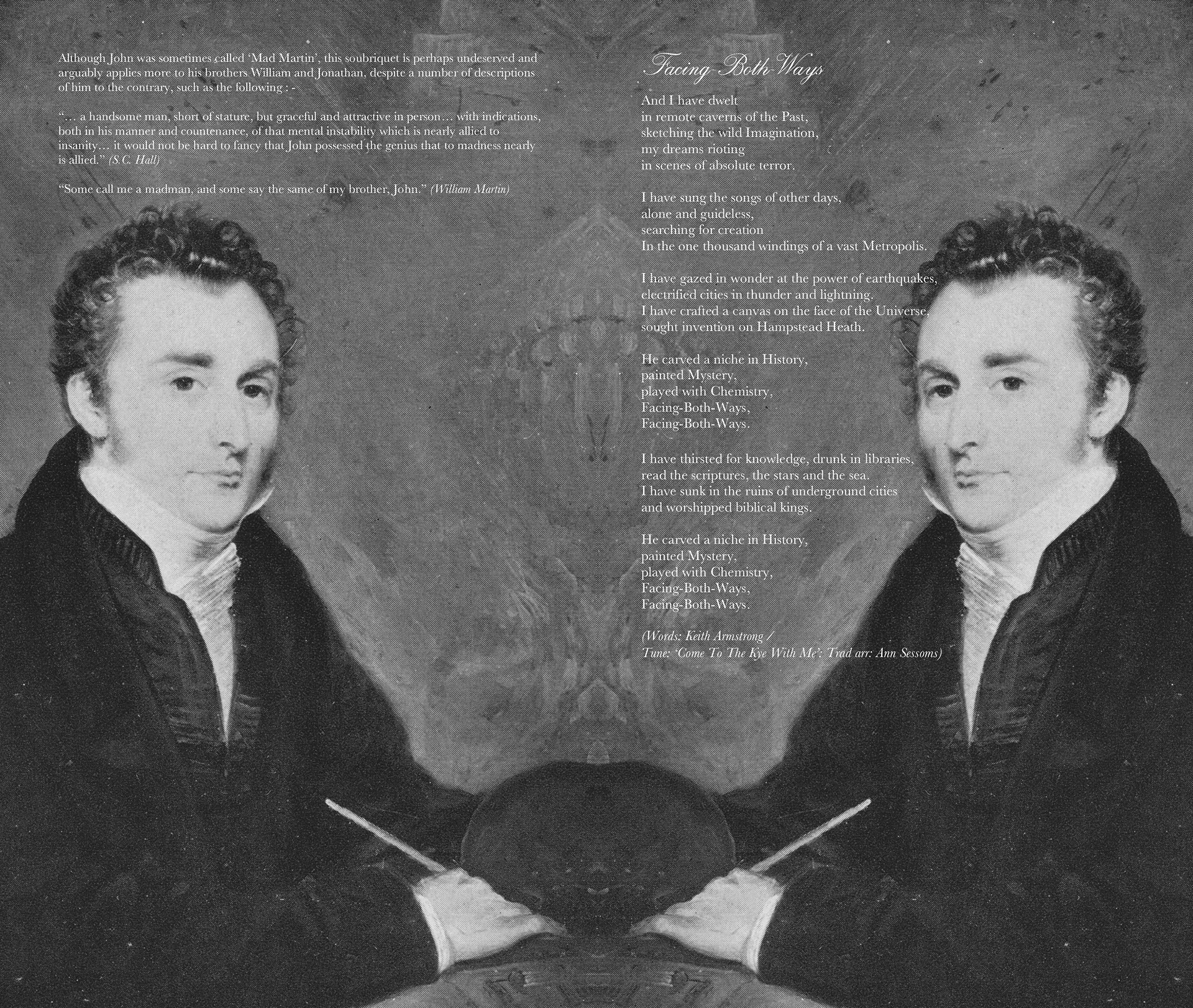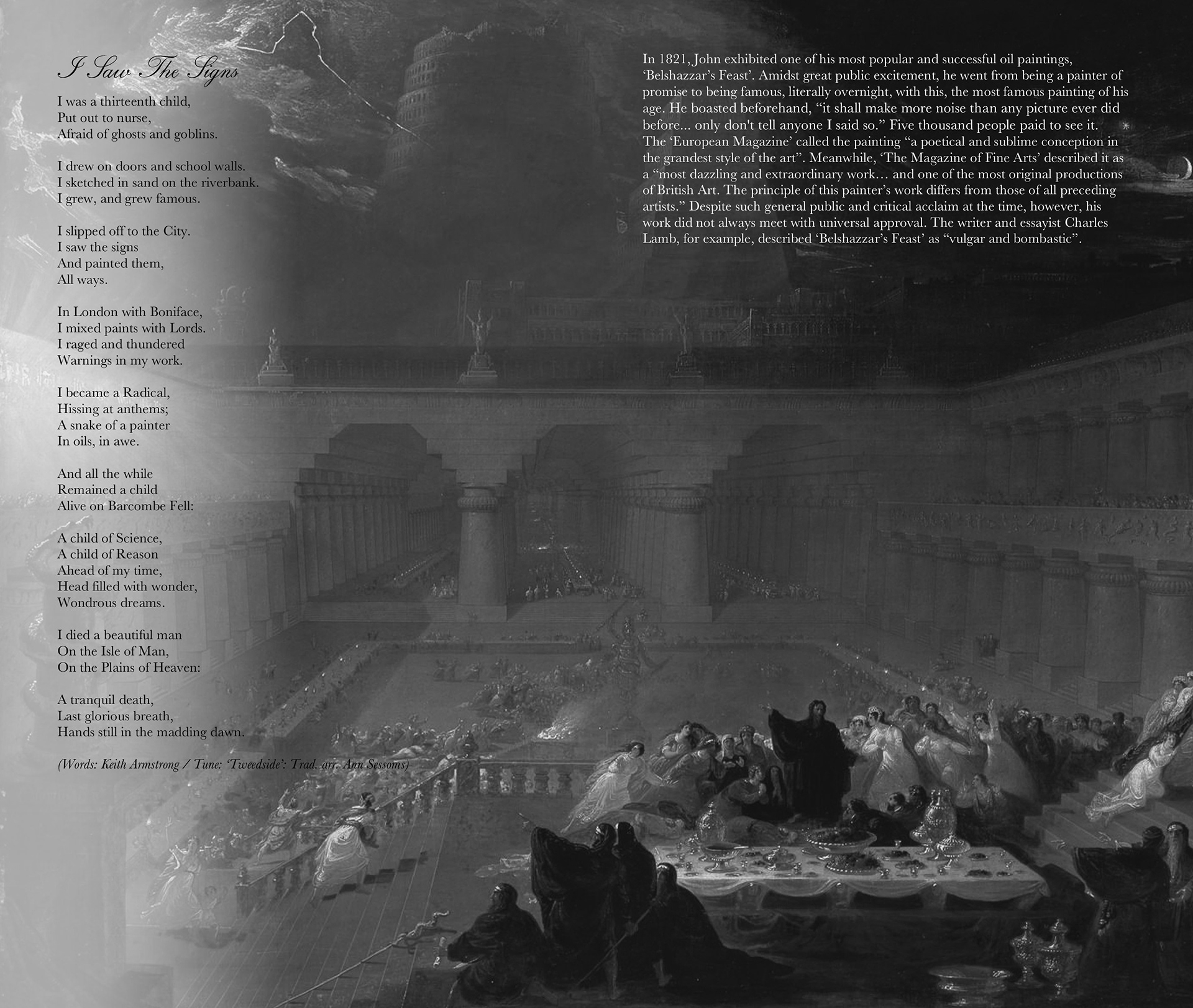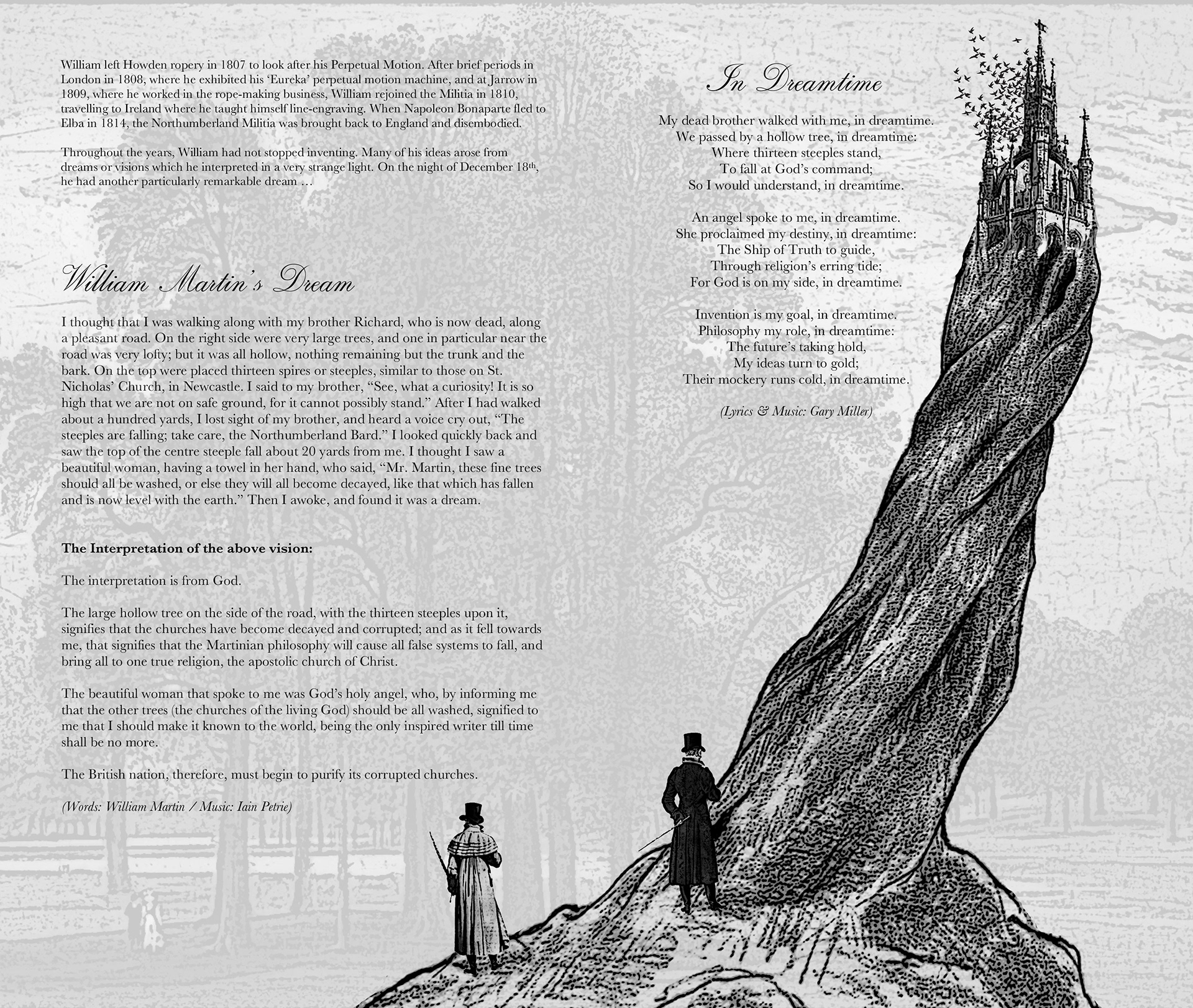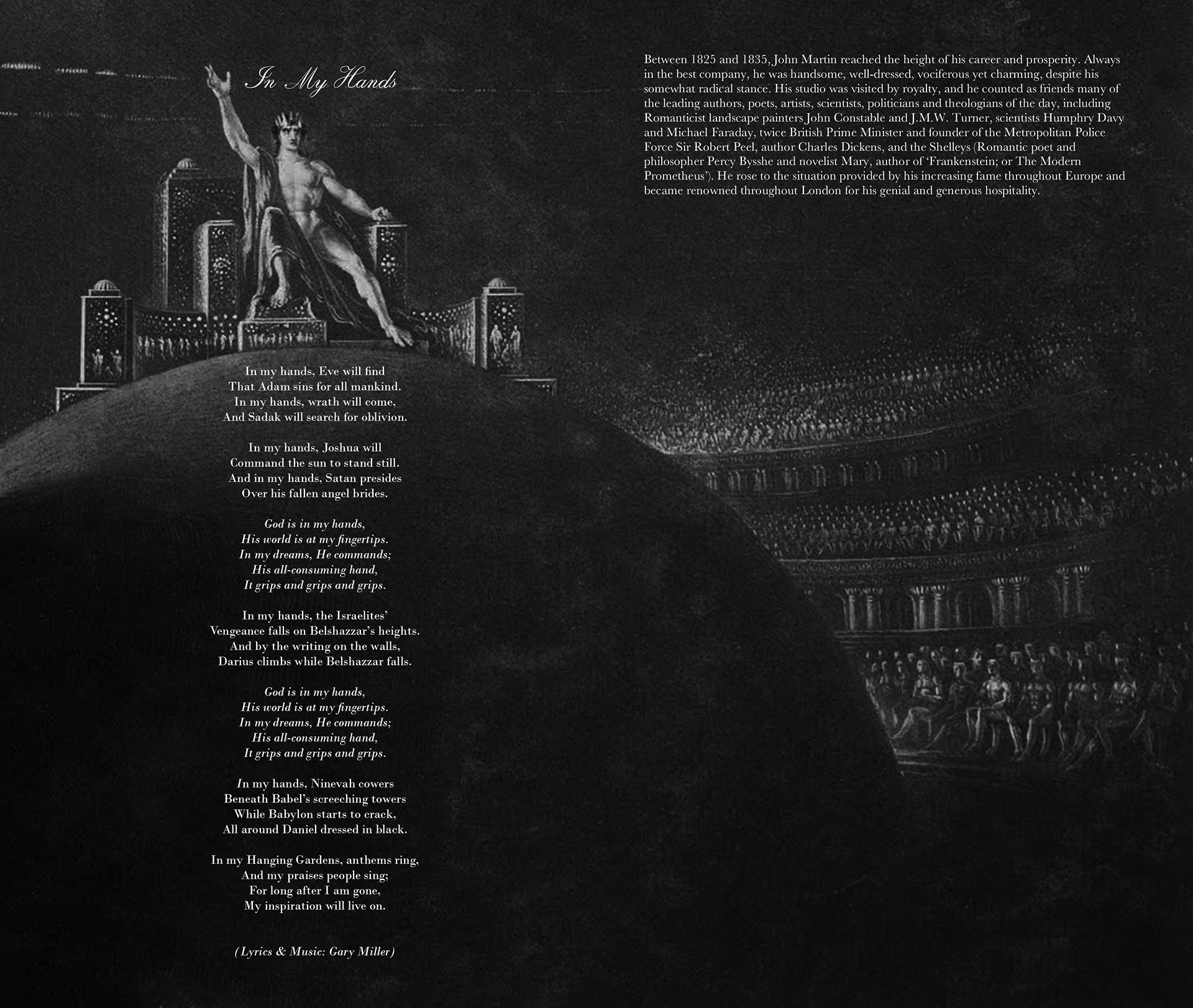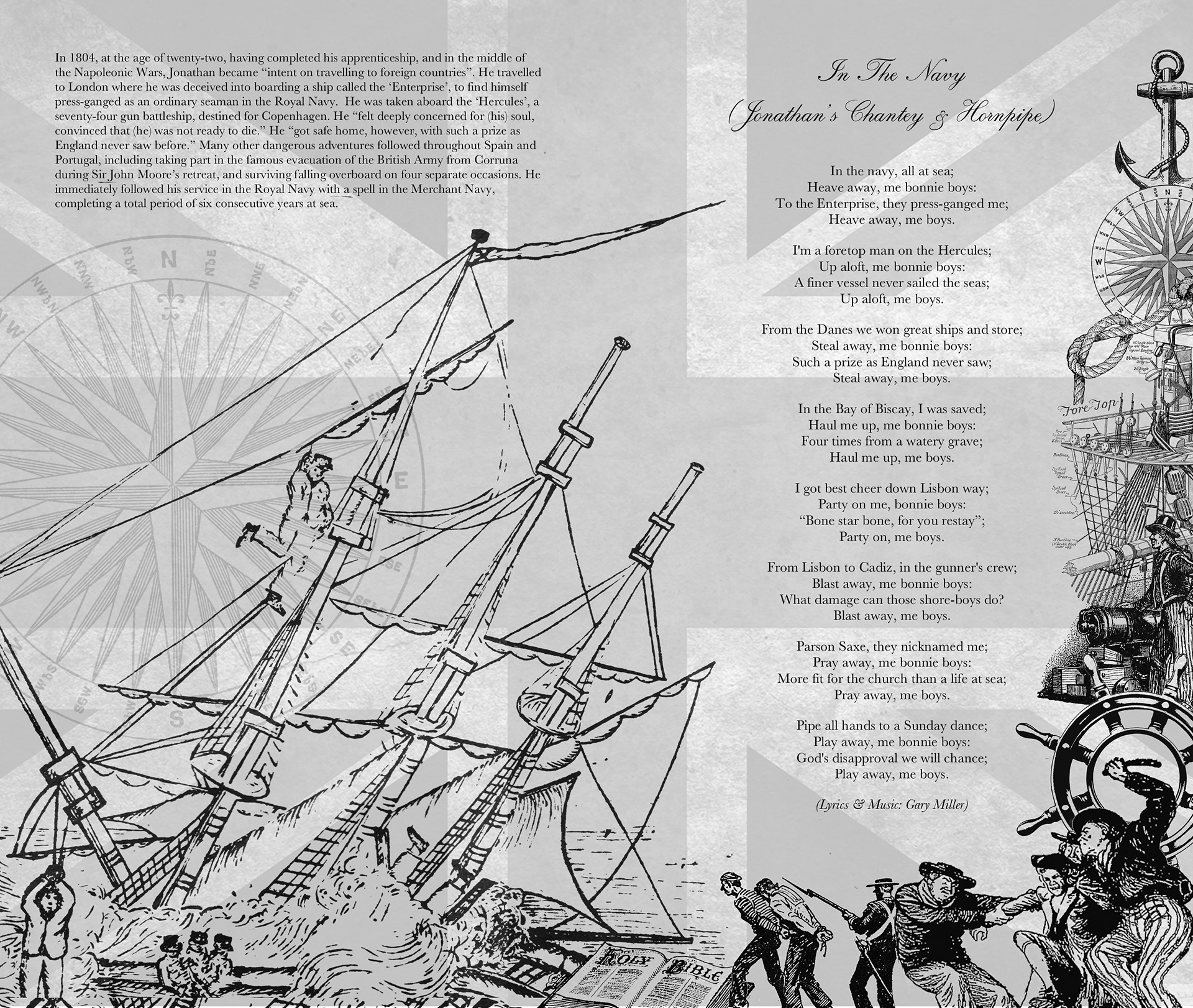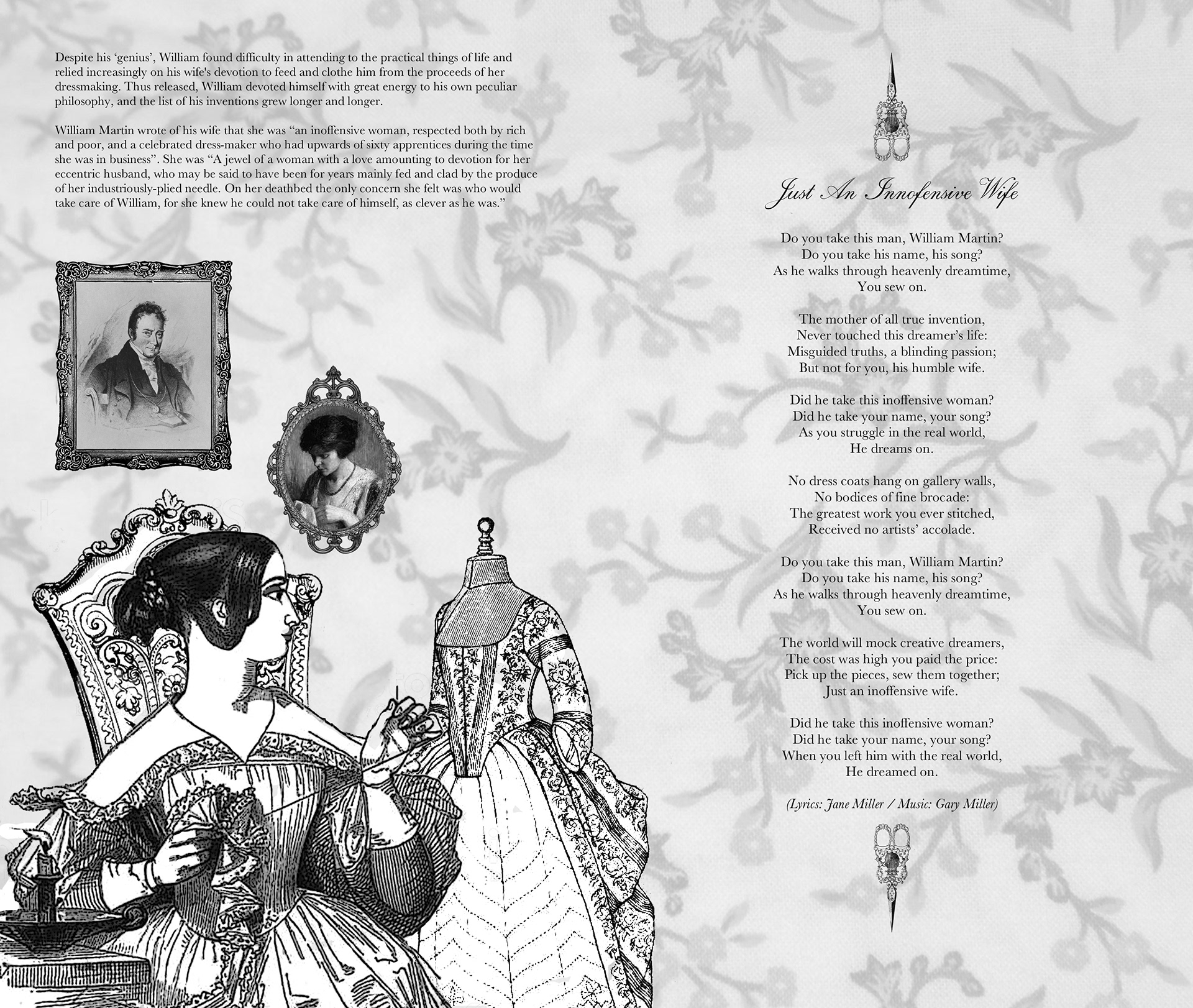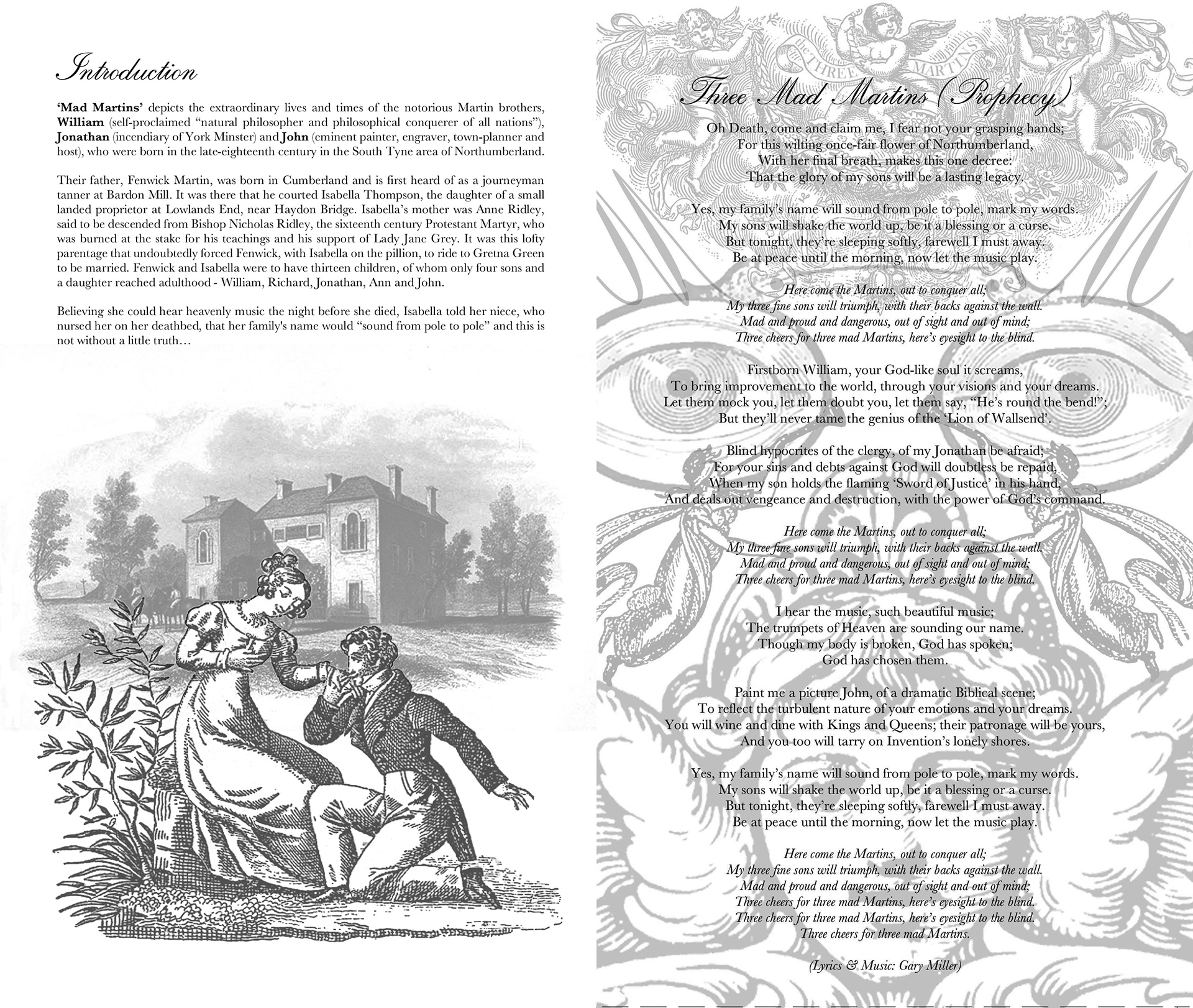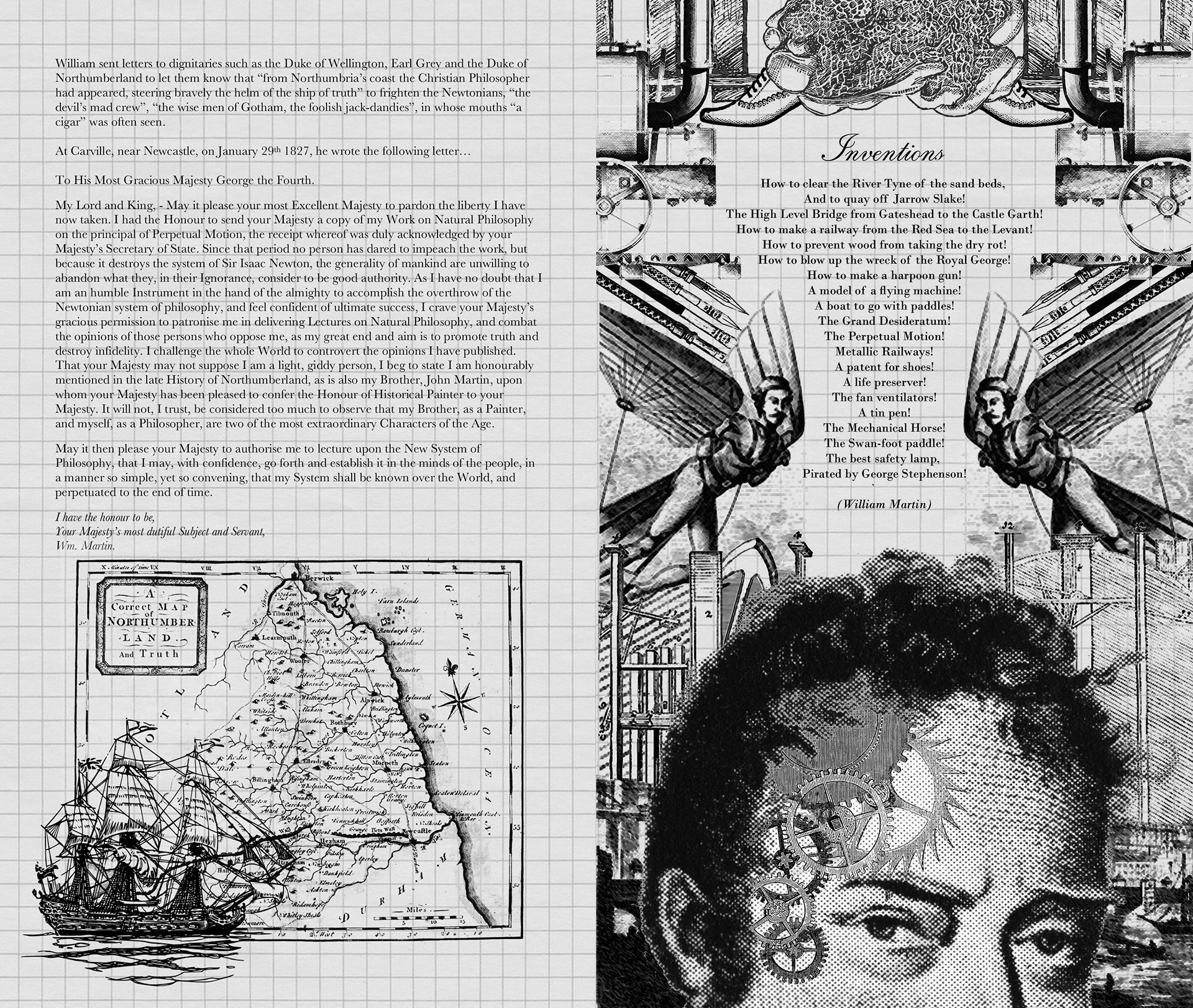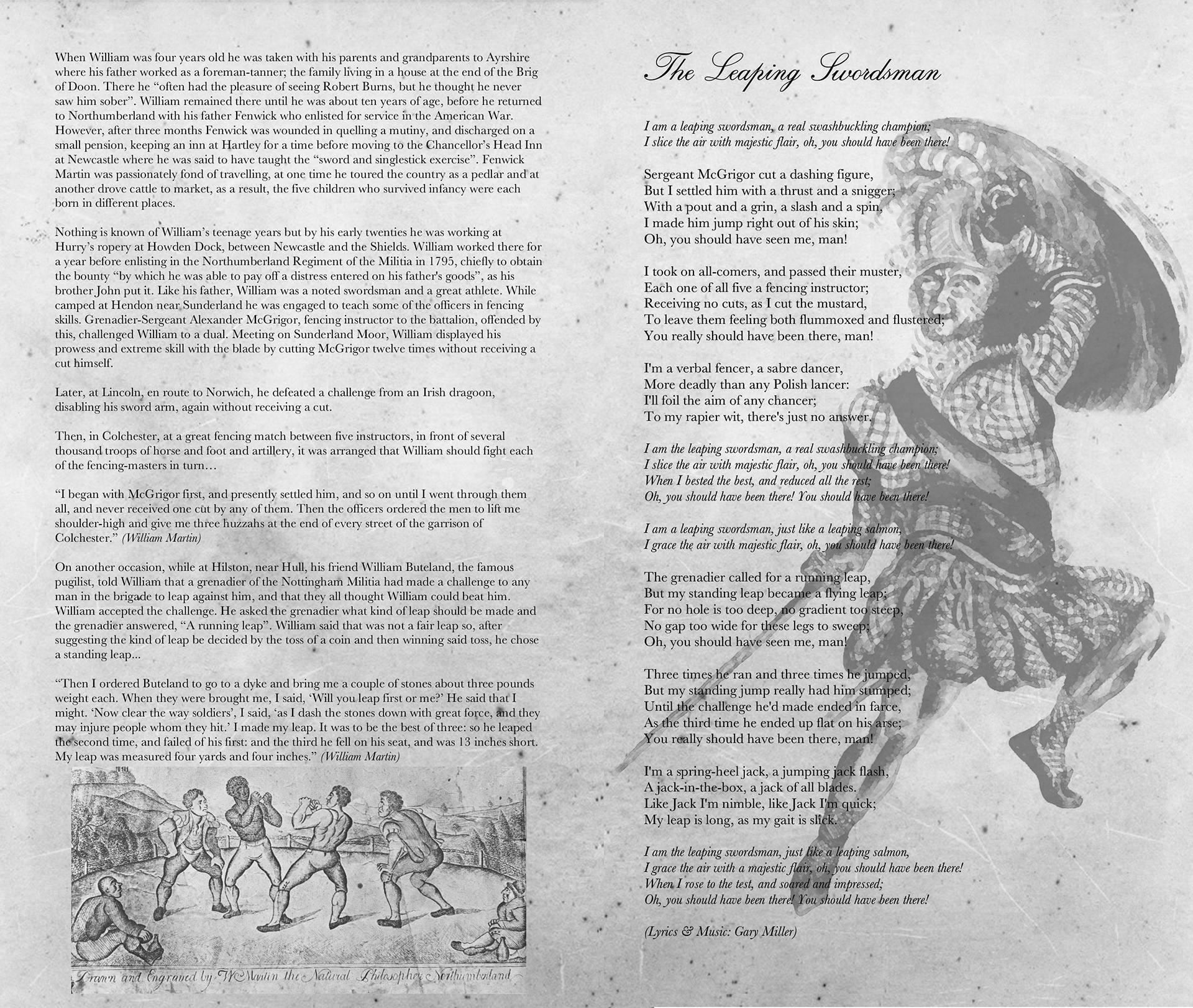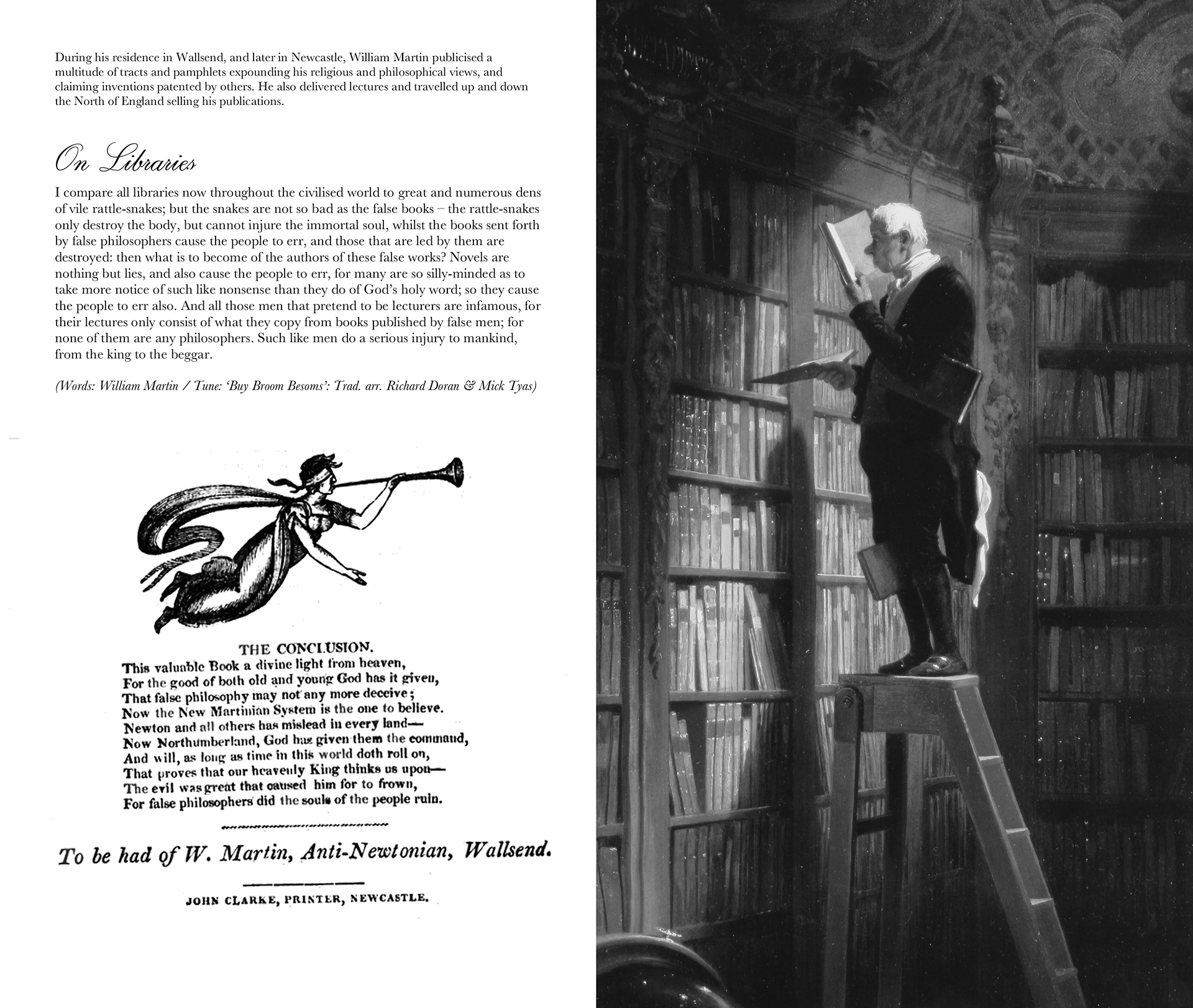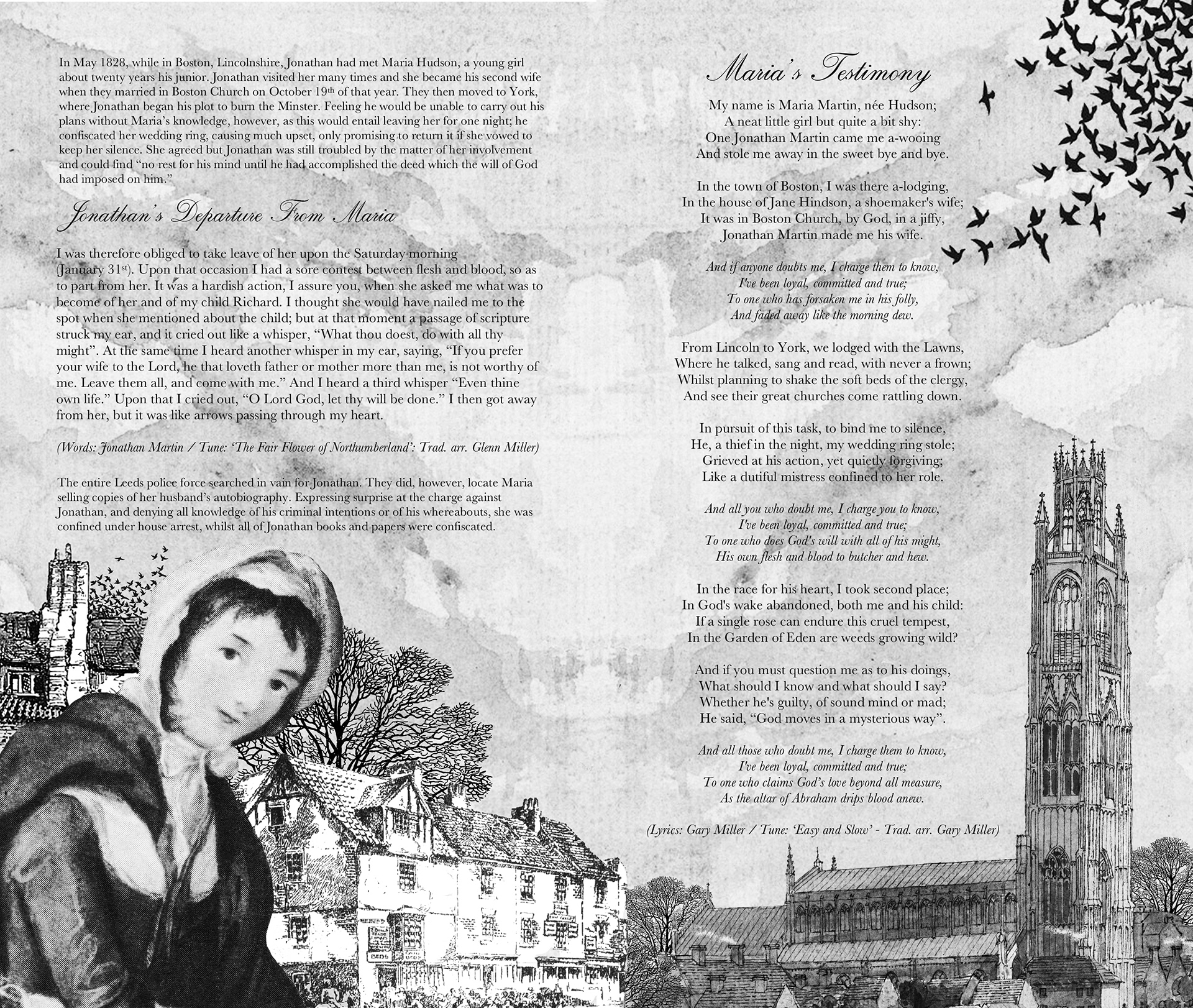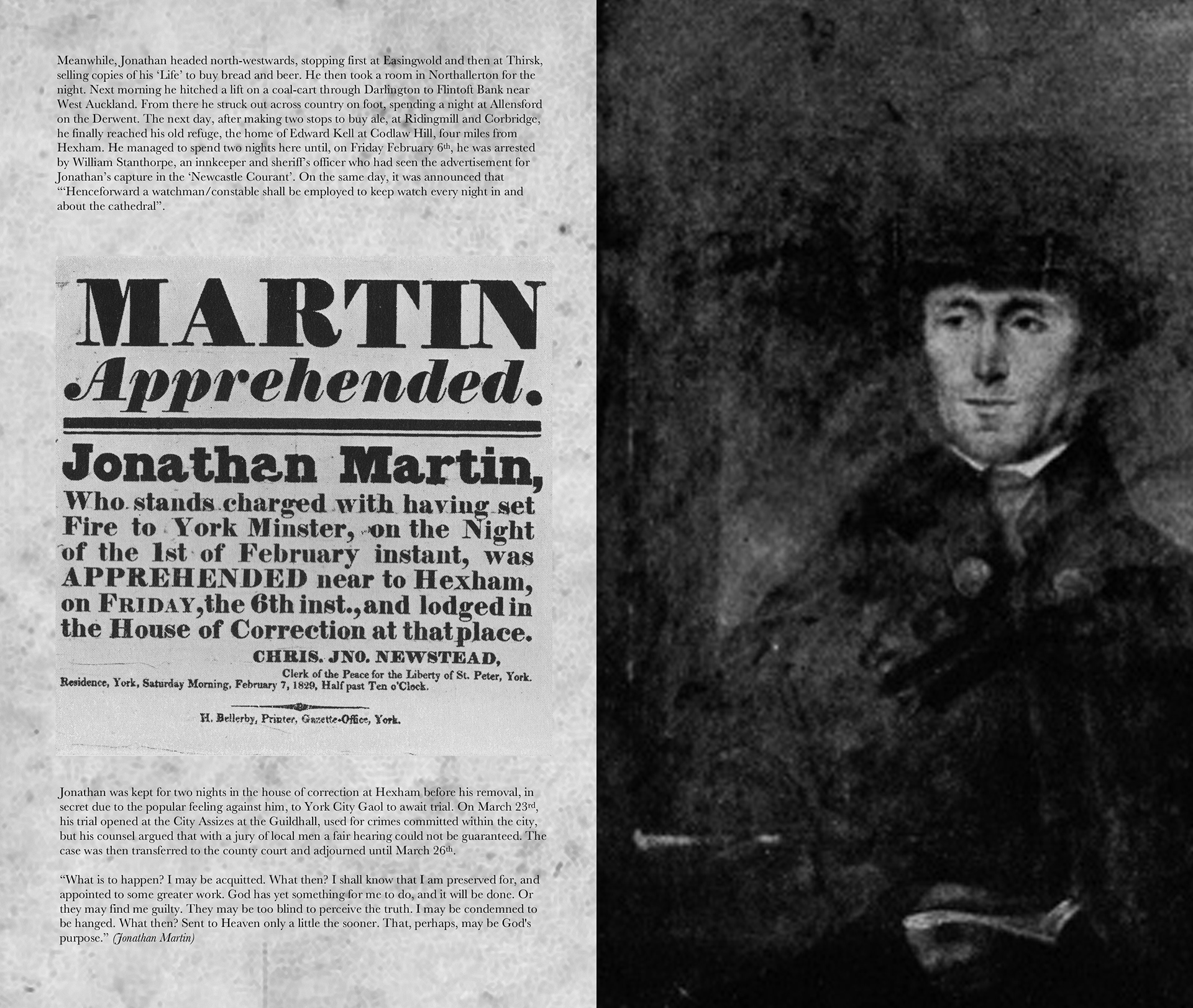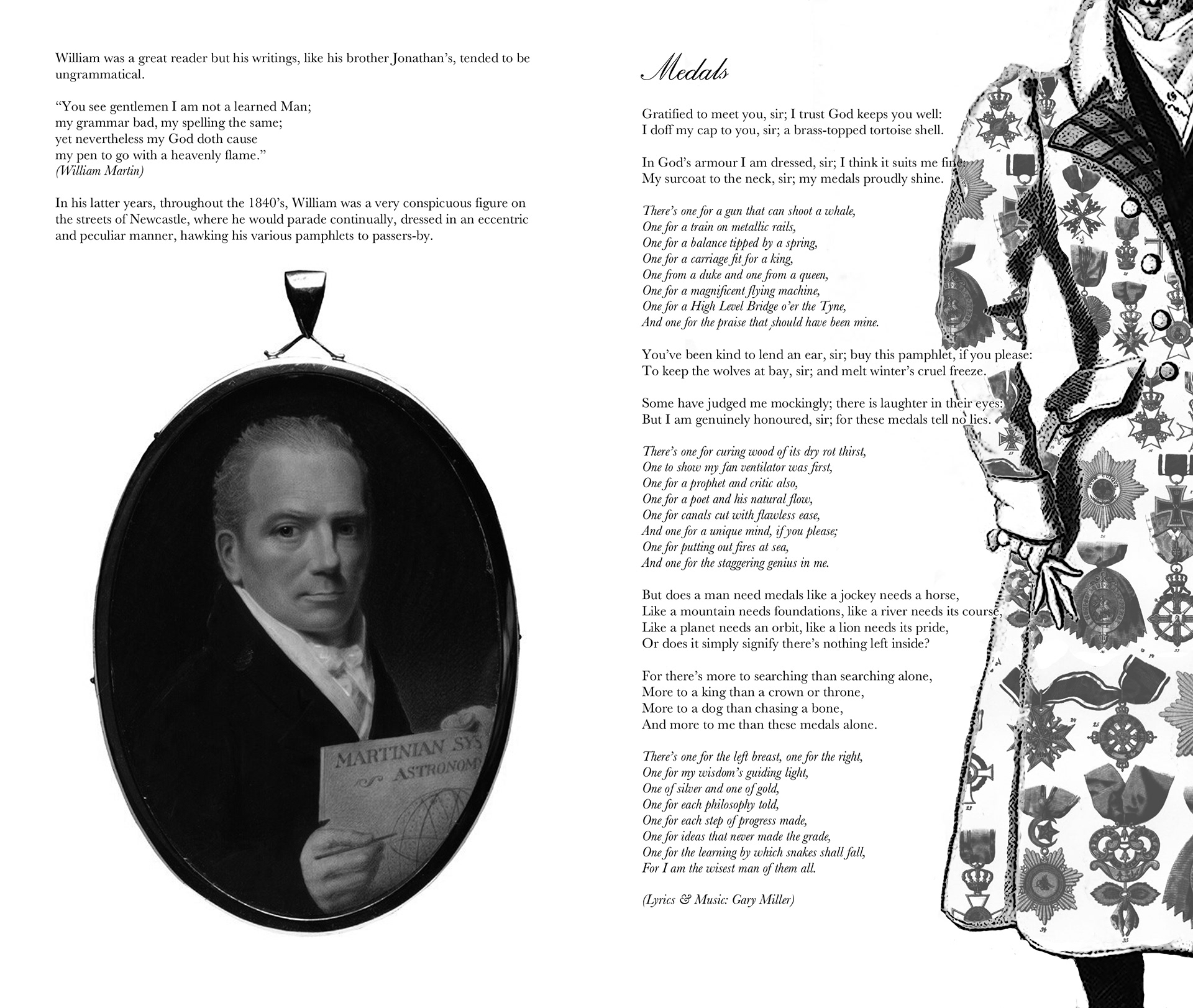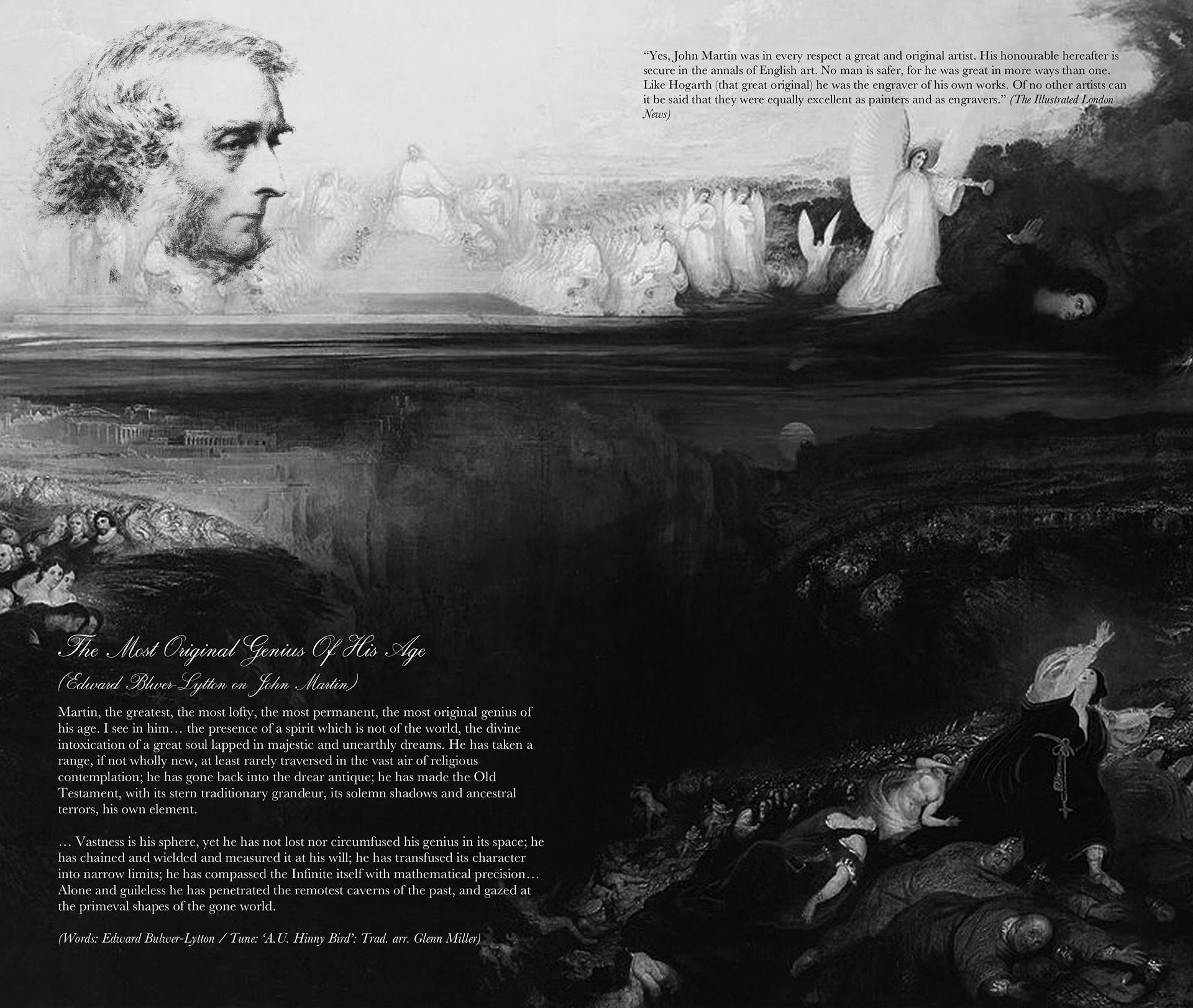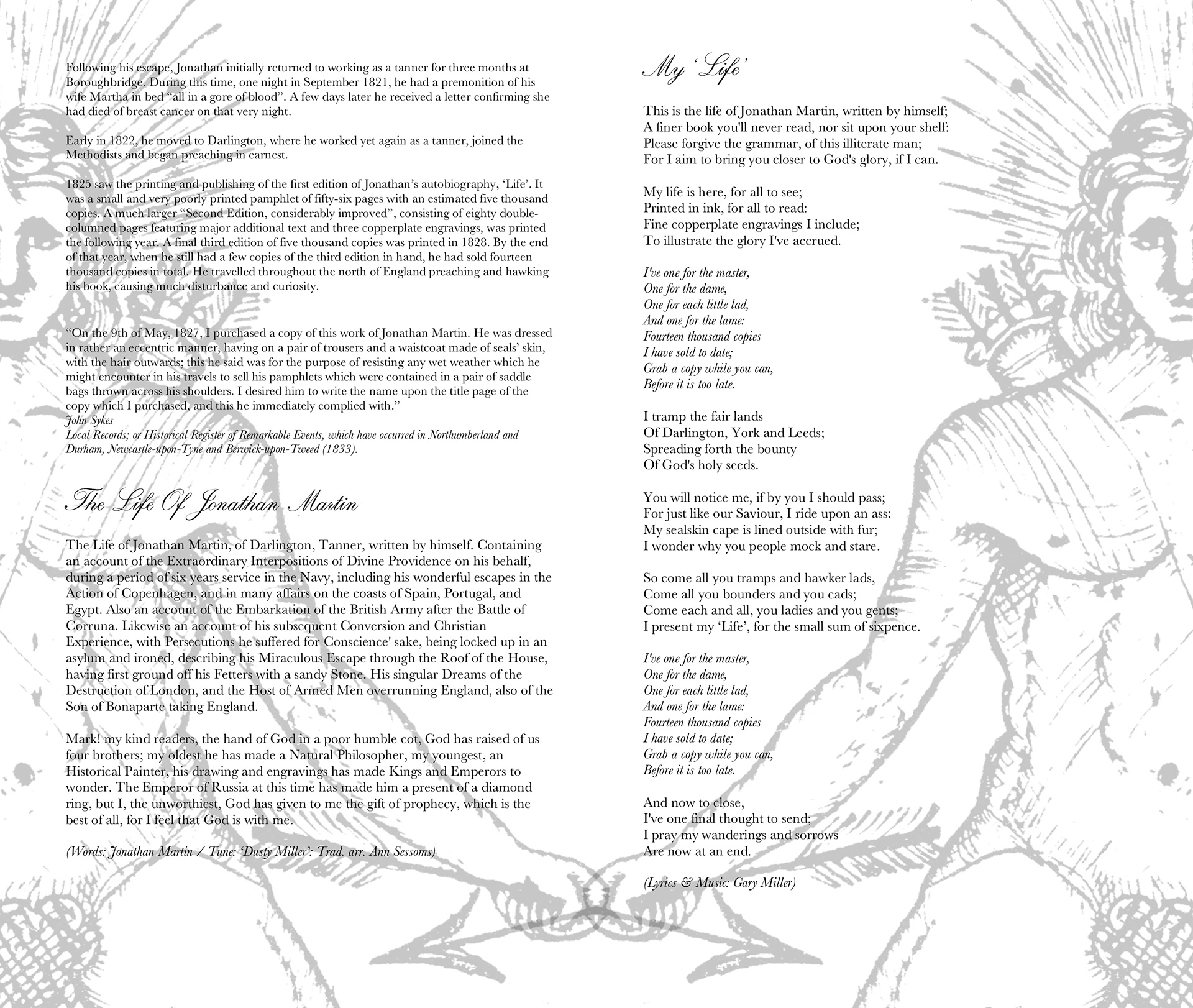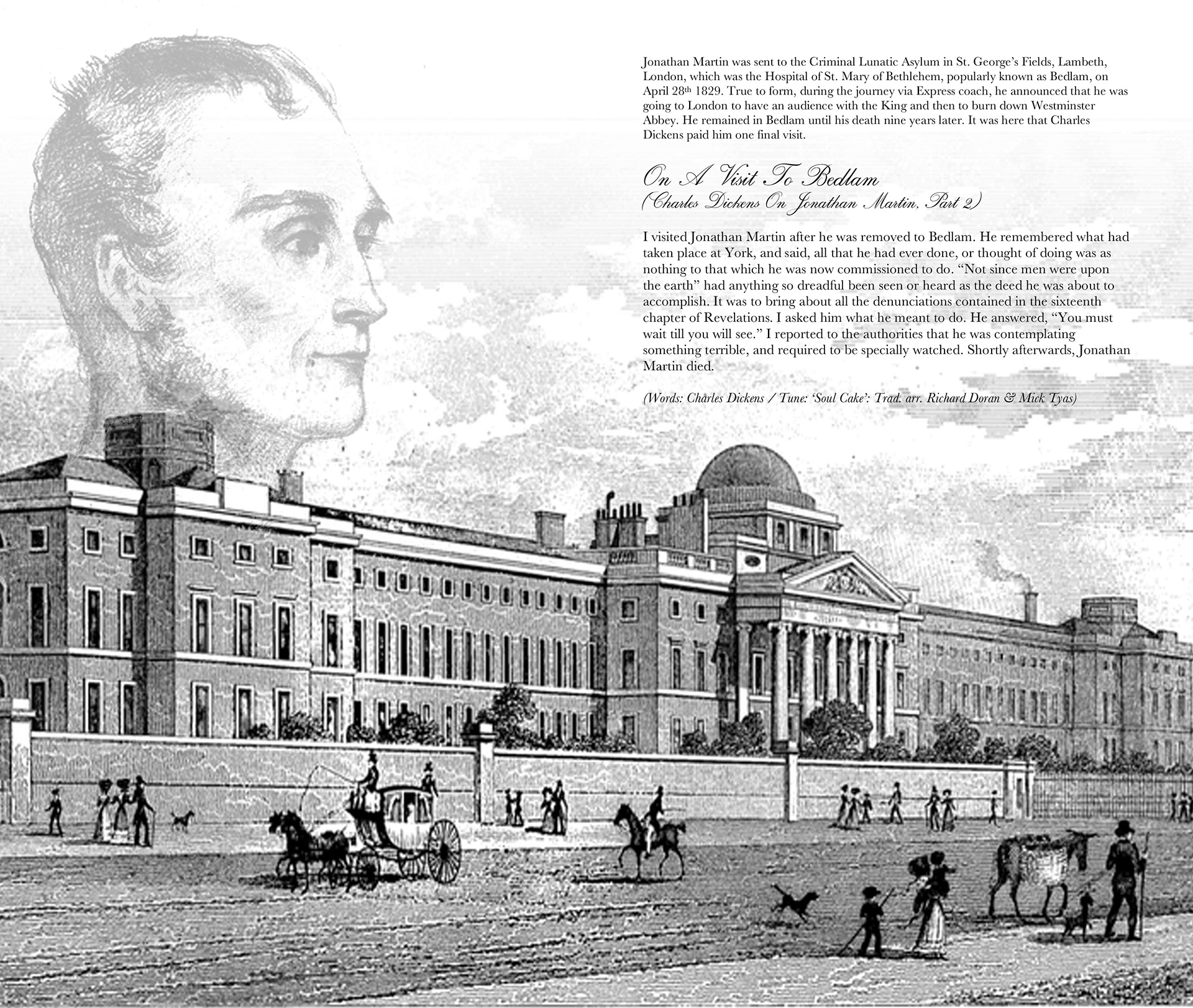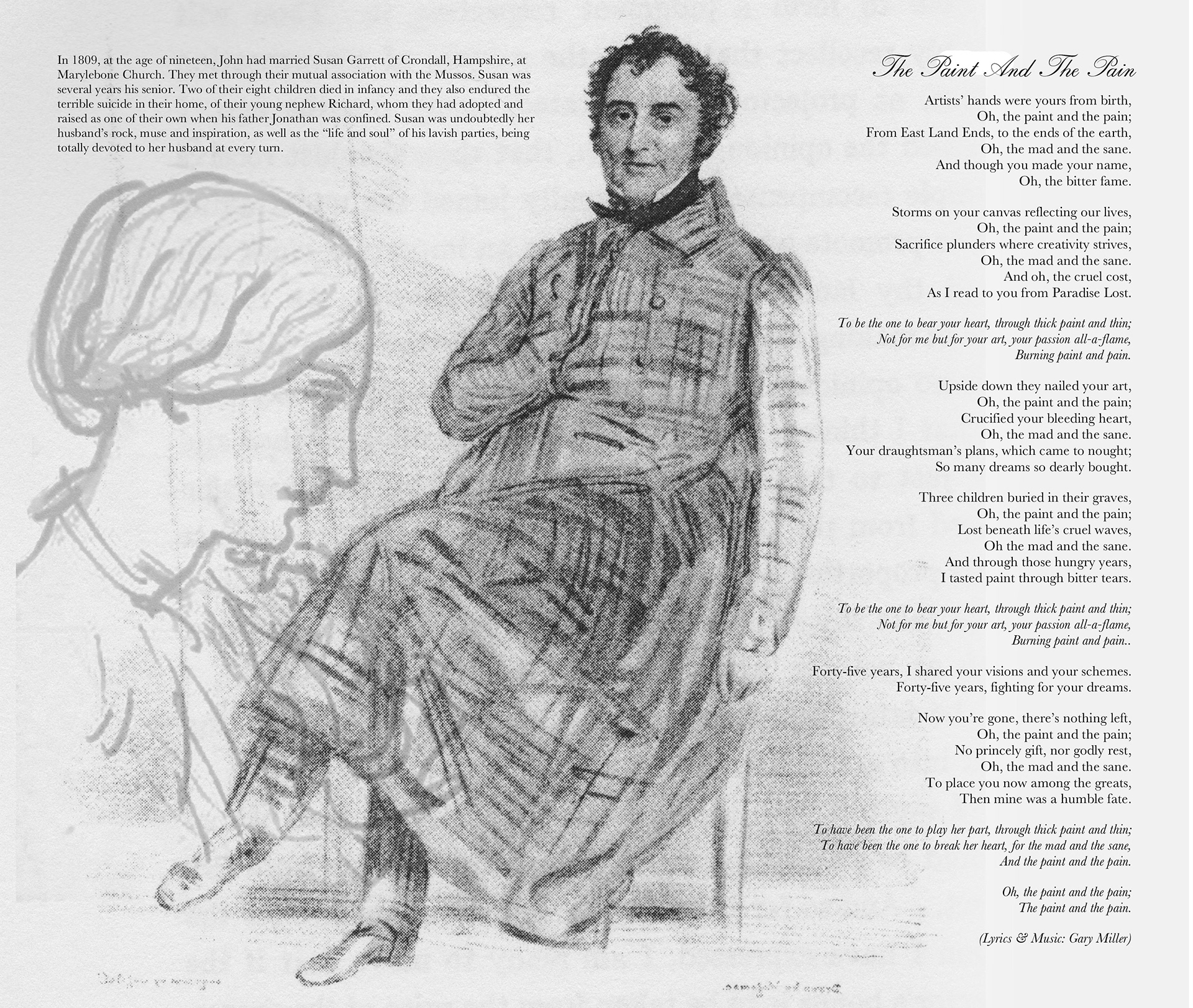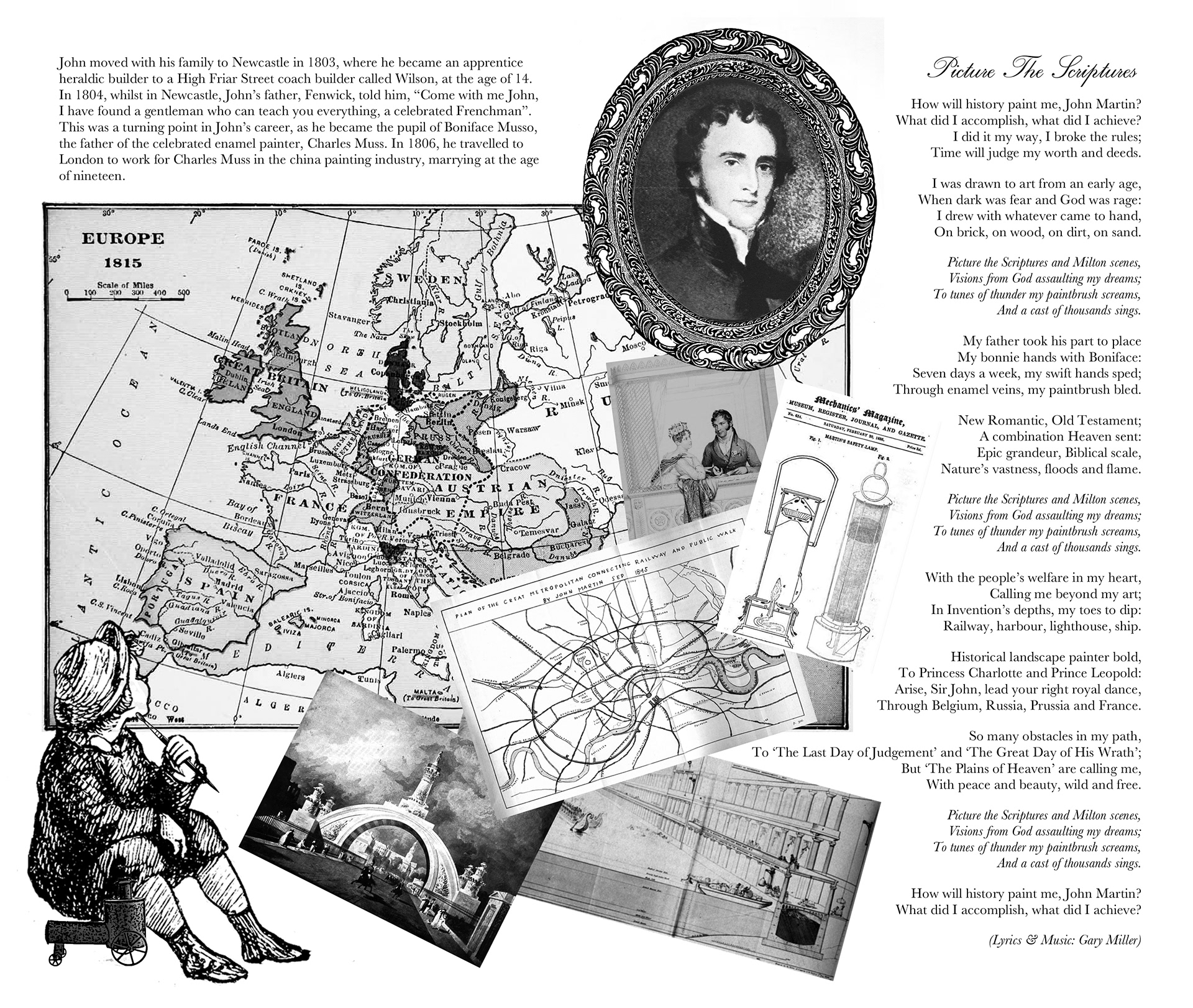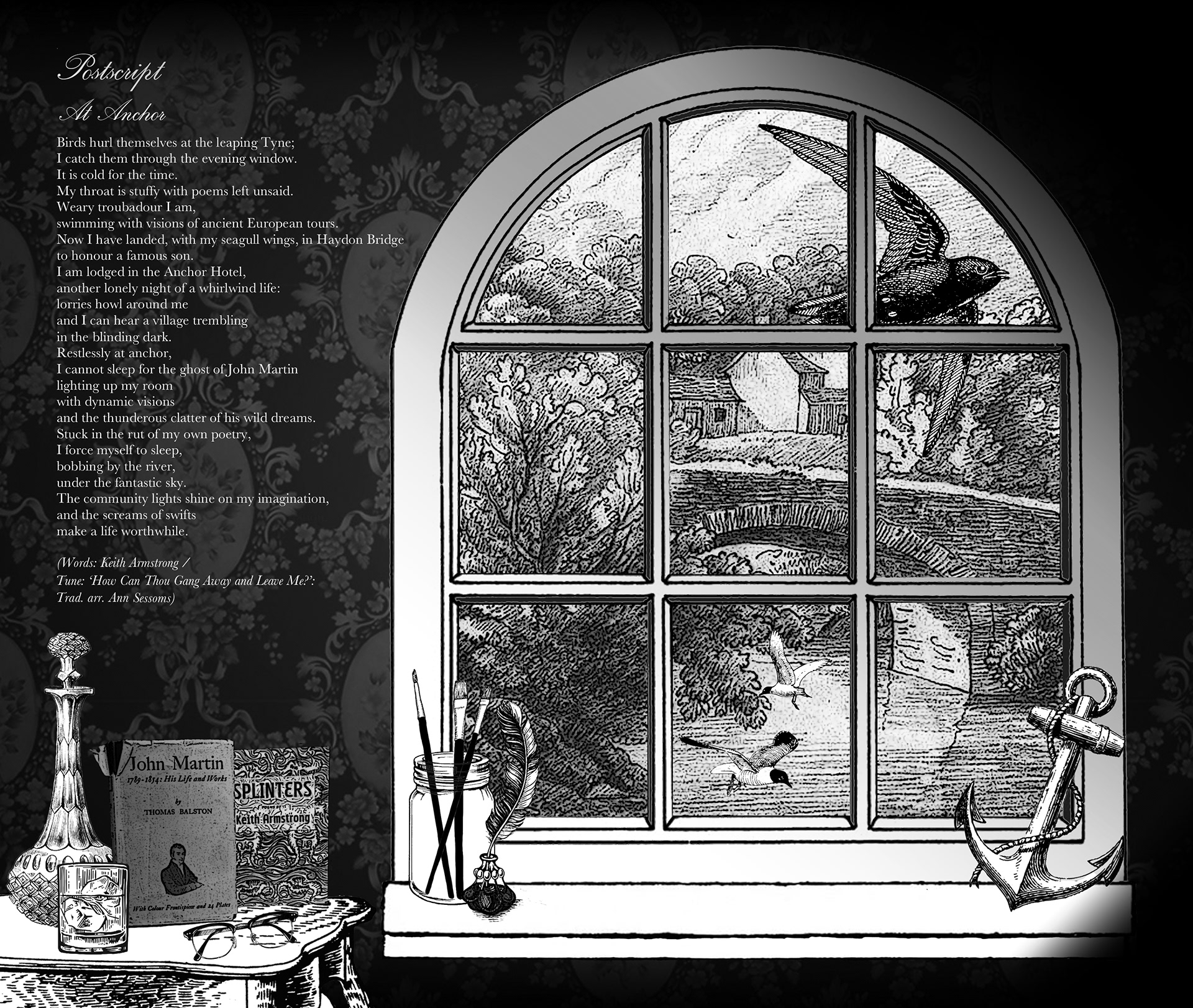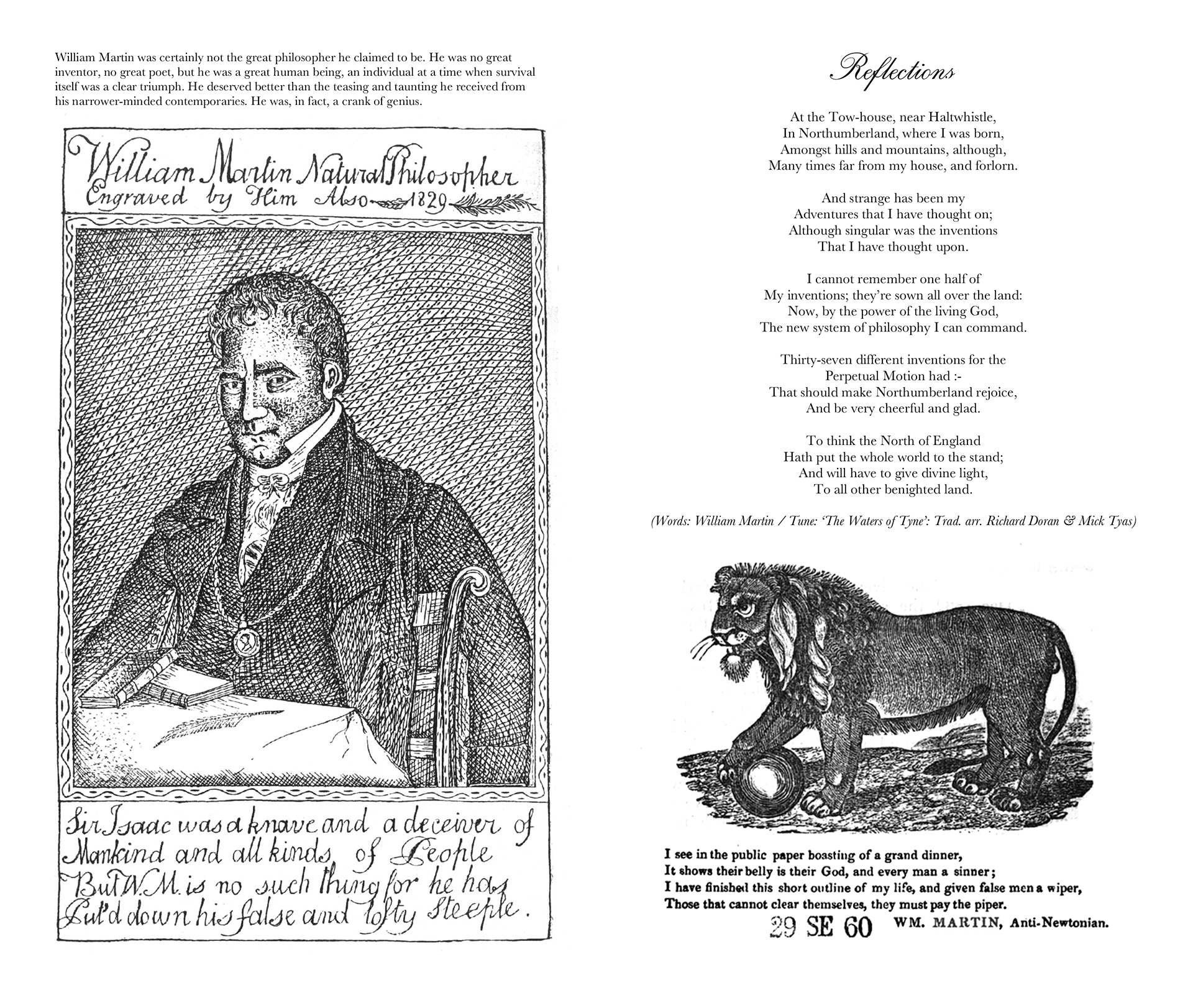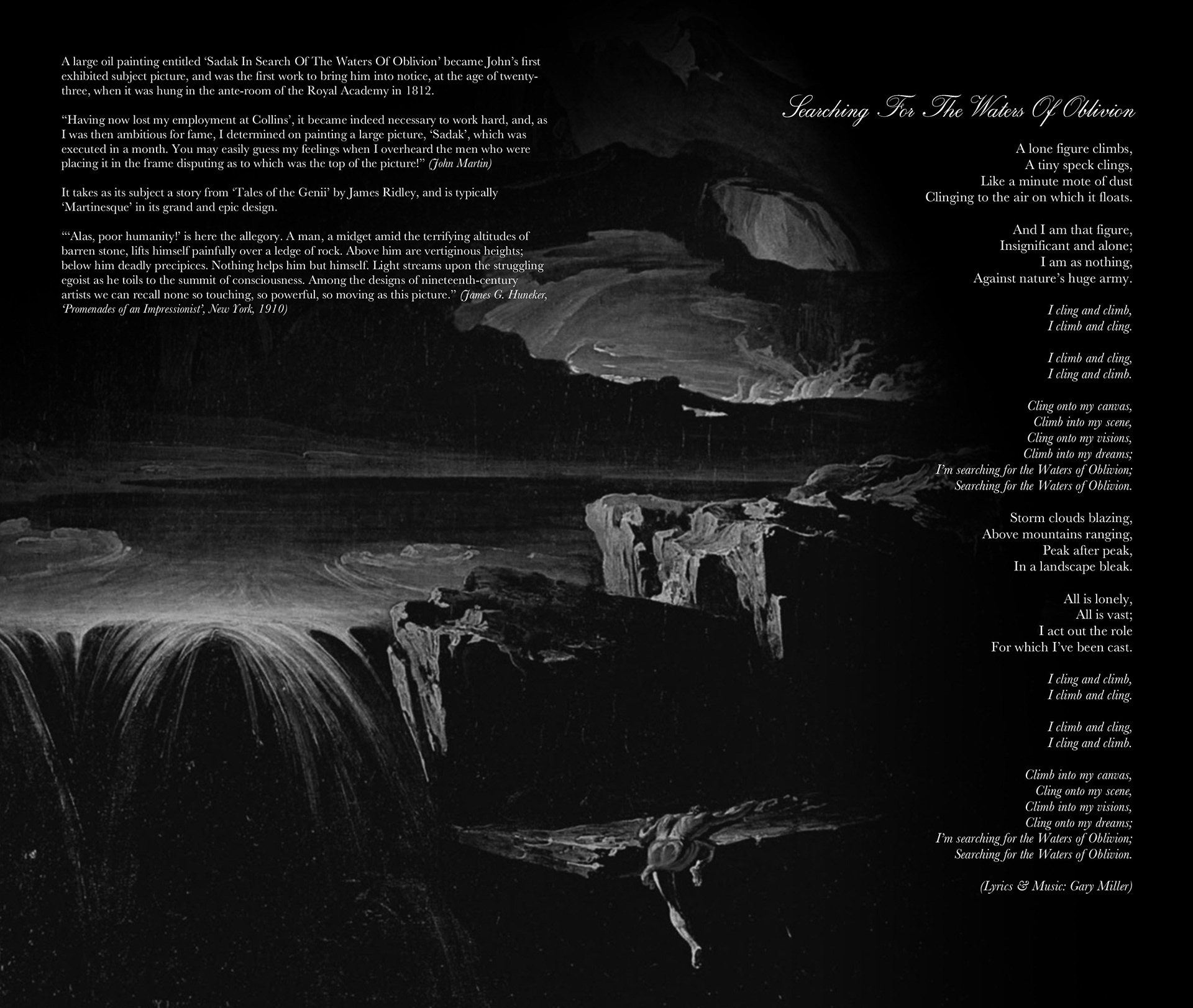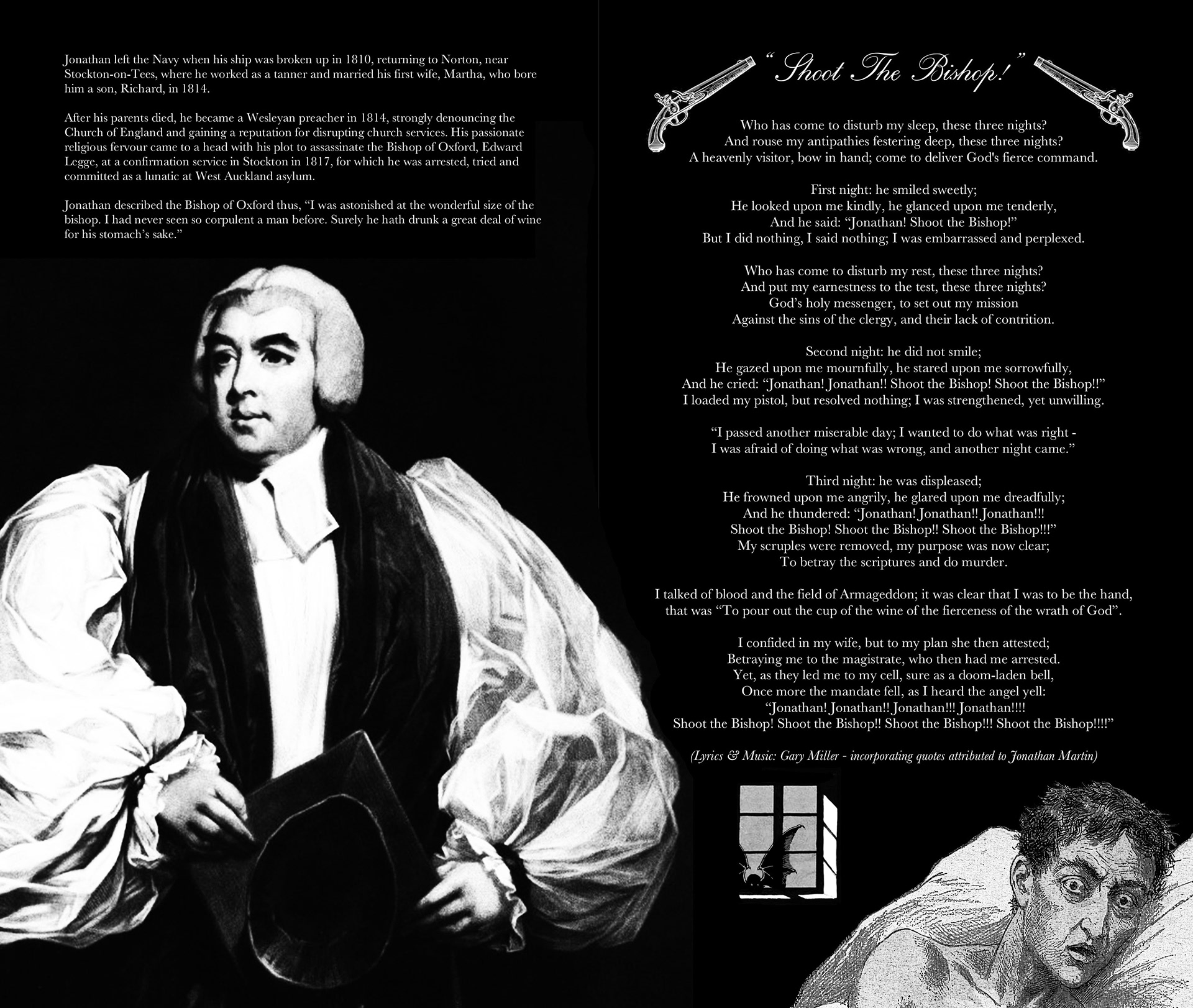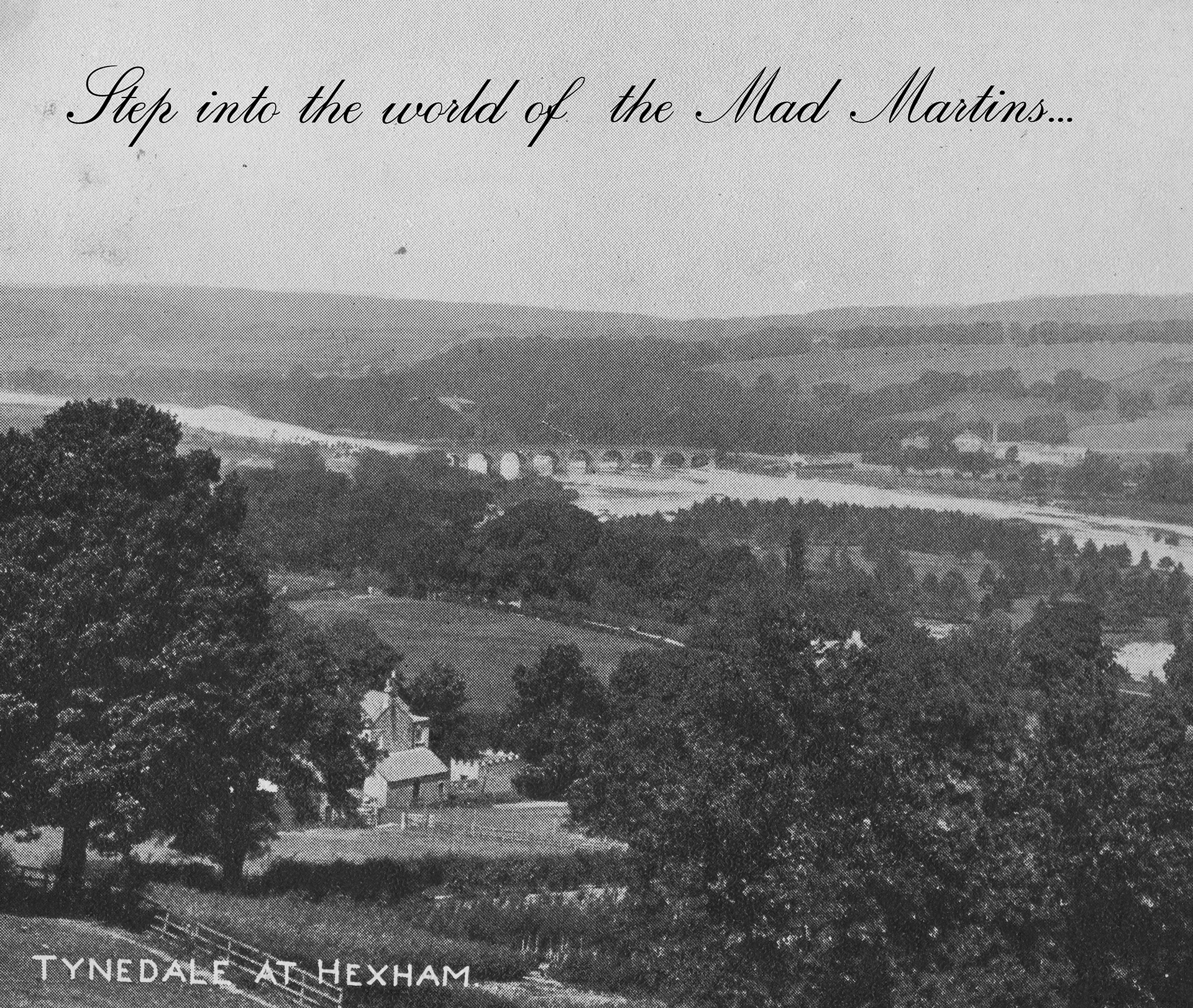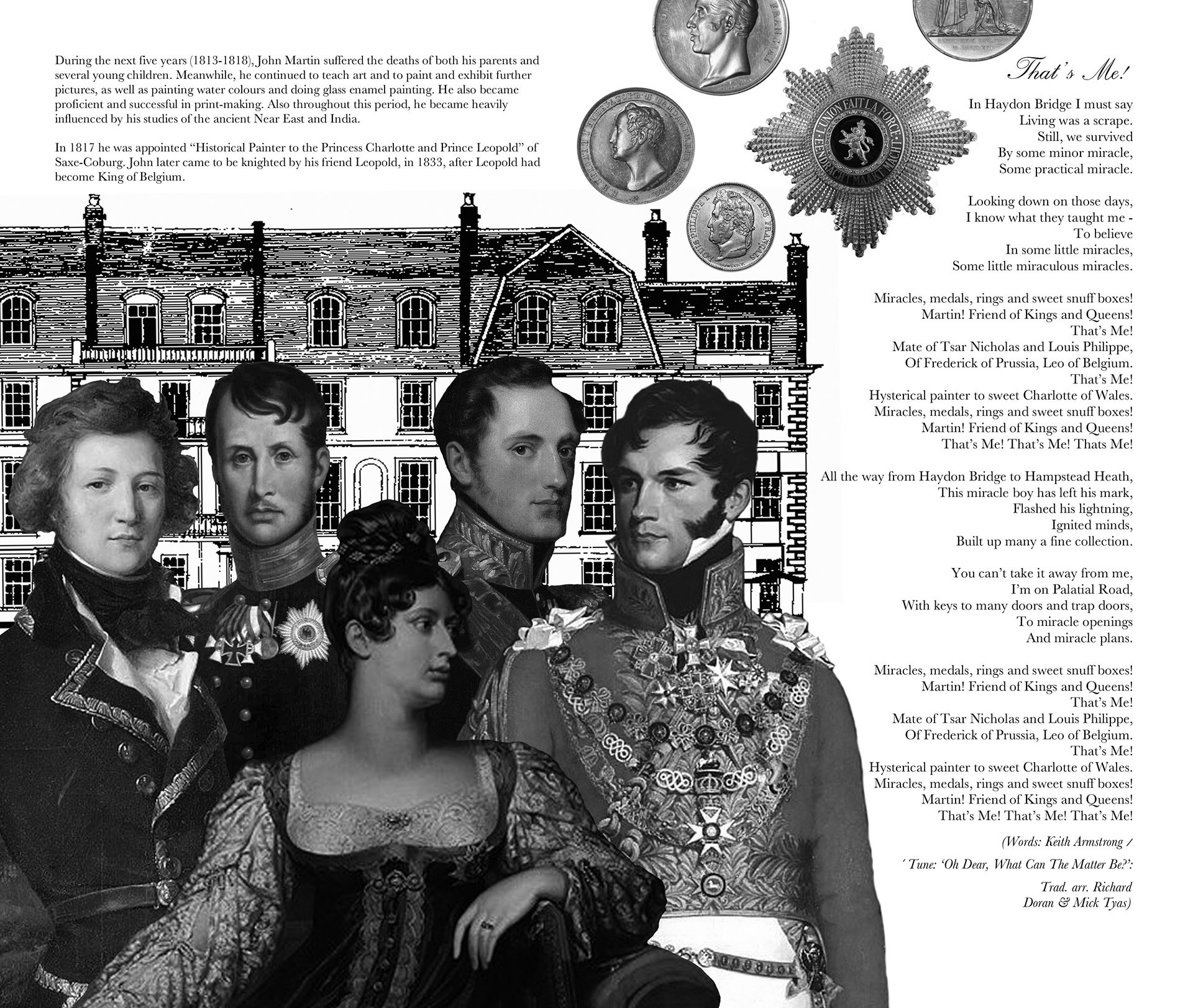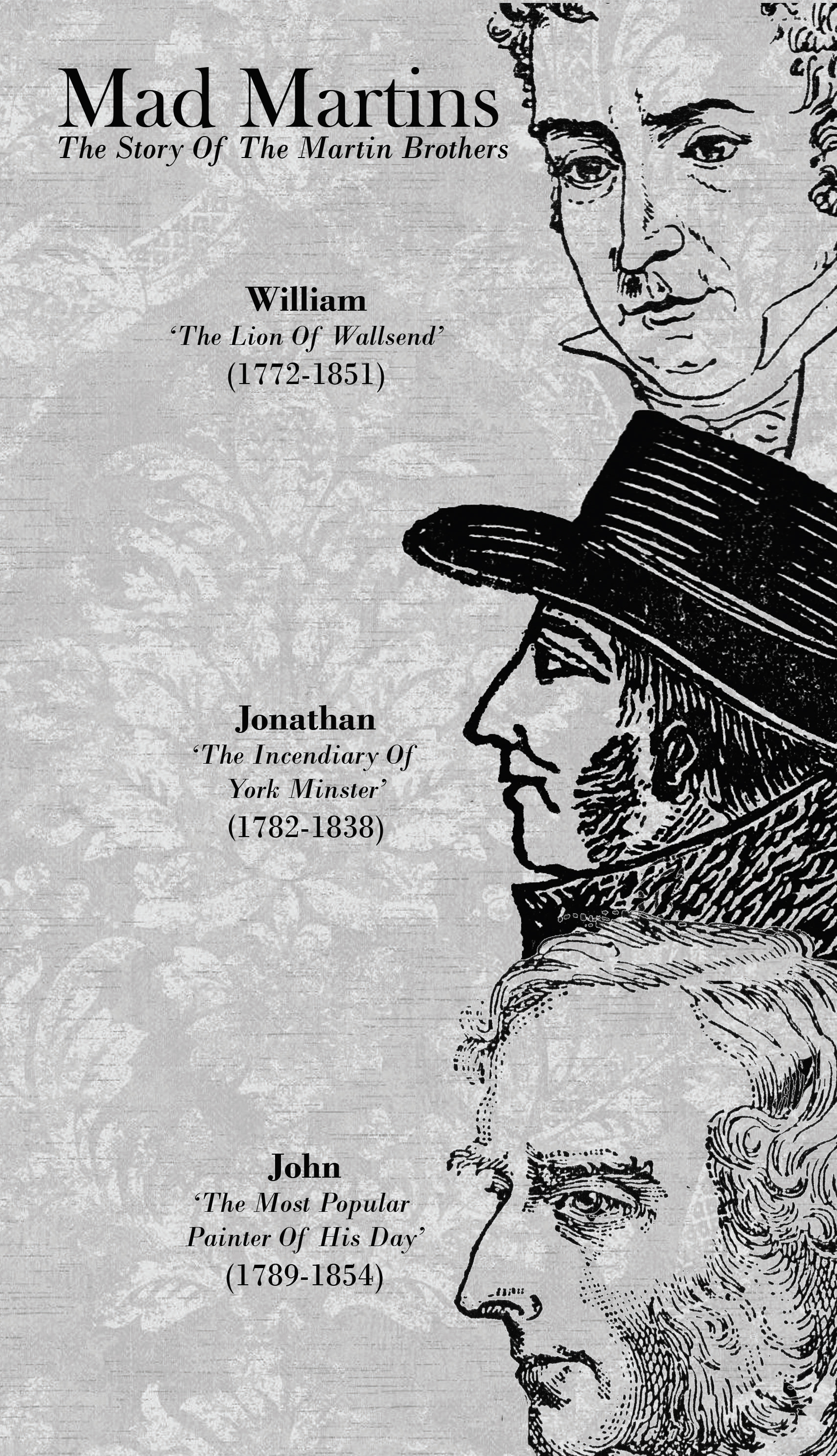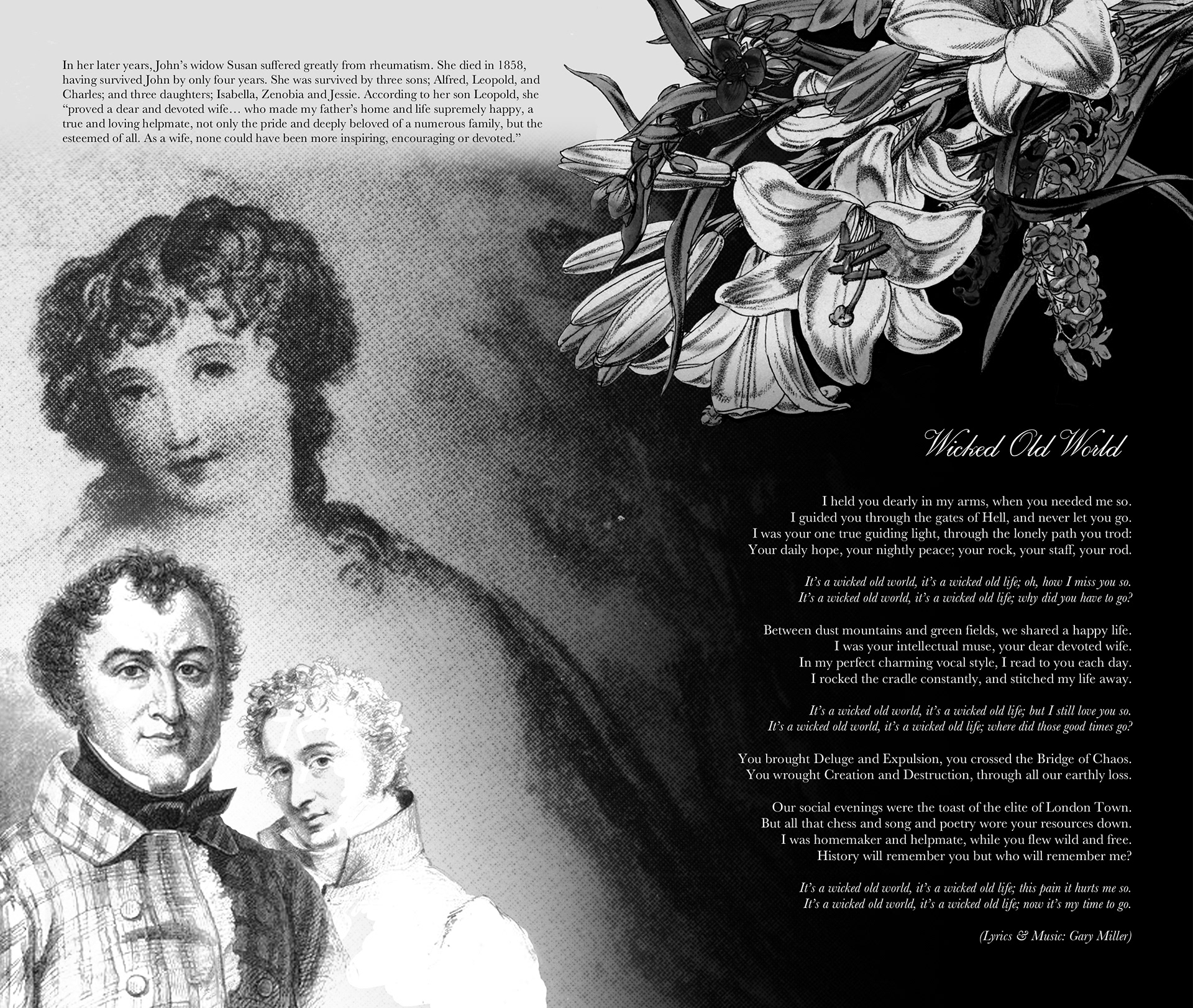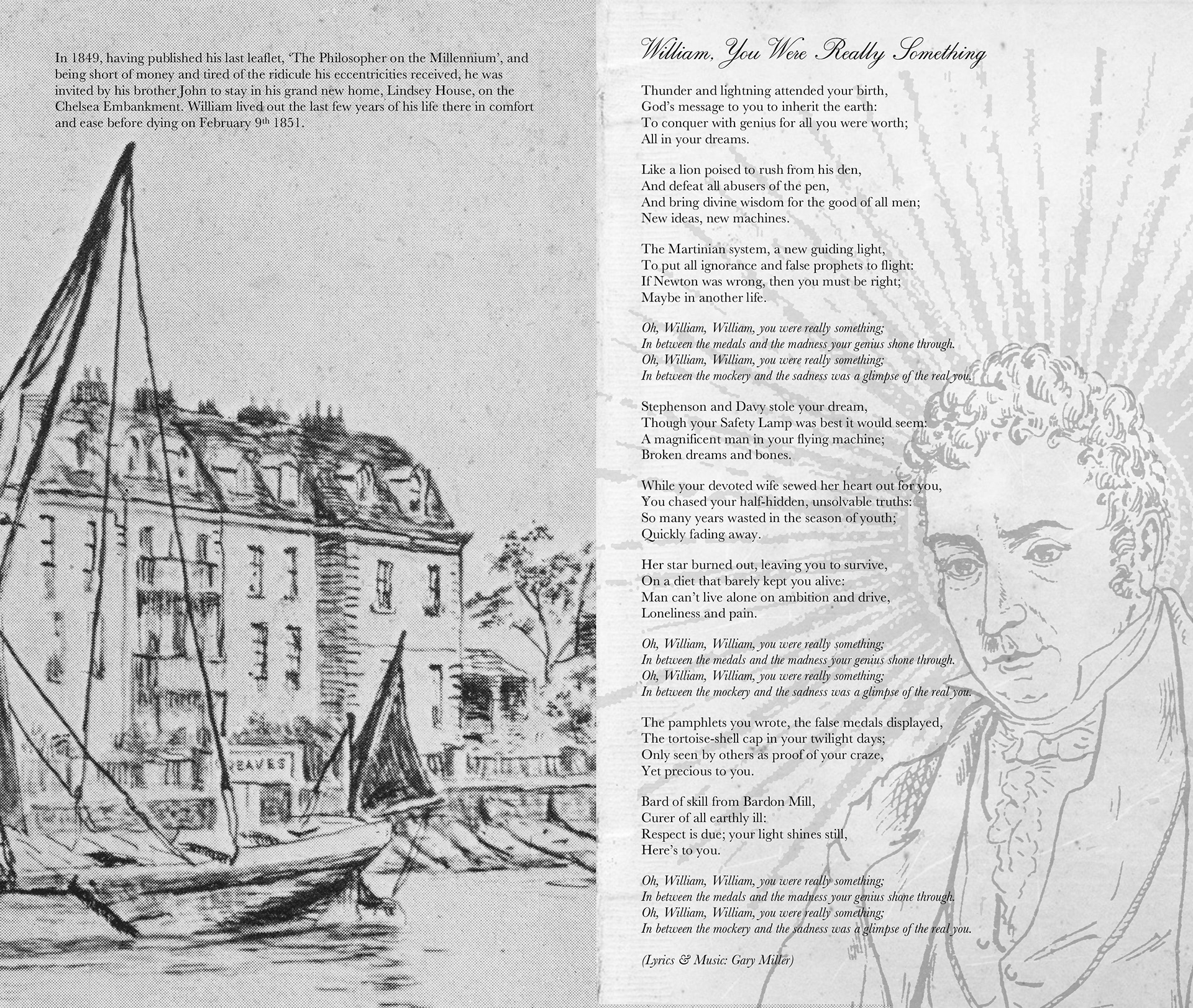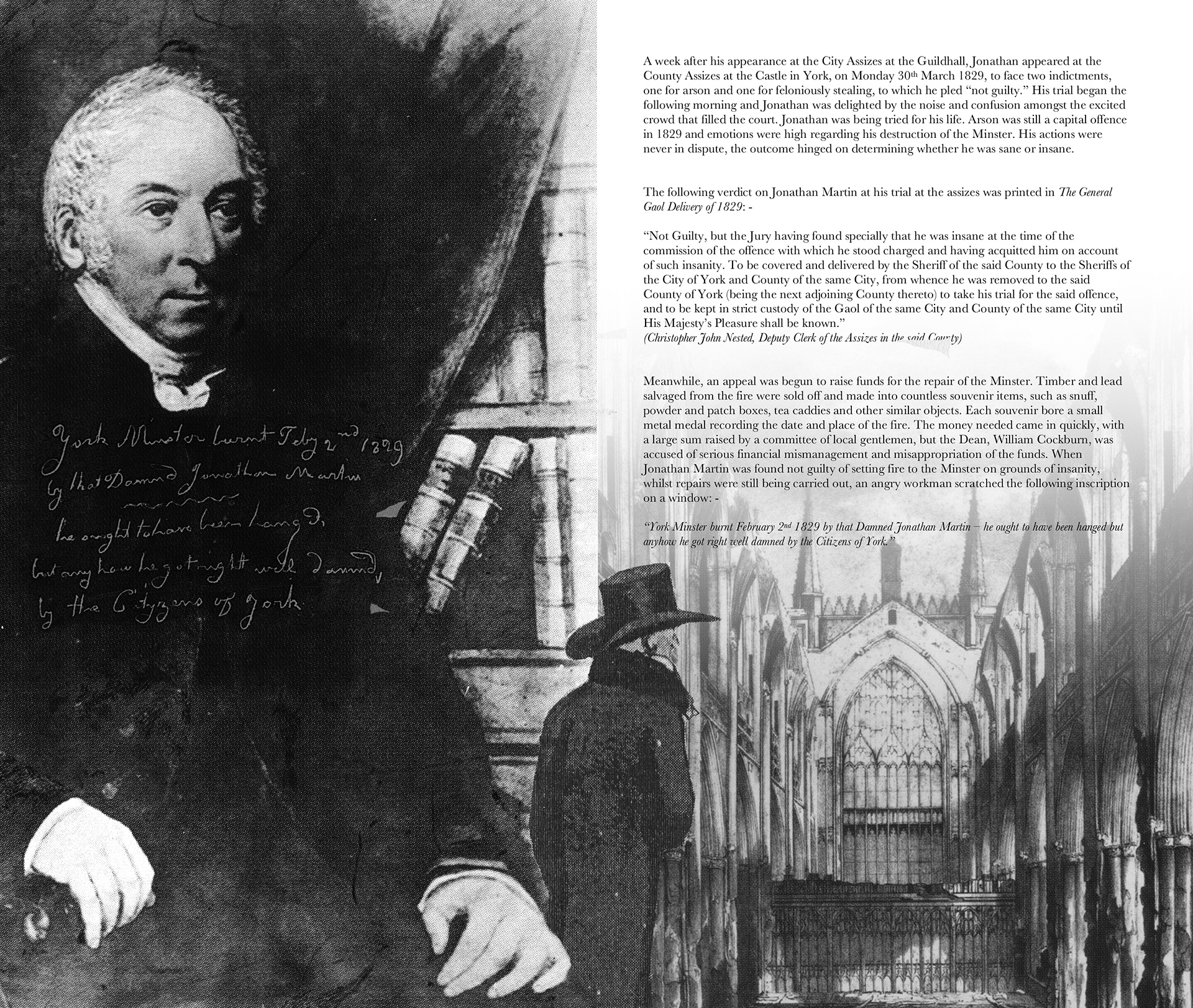 Mad Martins Page Spreads (Not in order)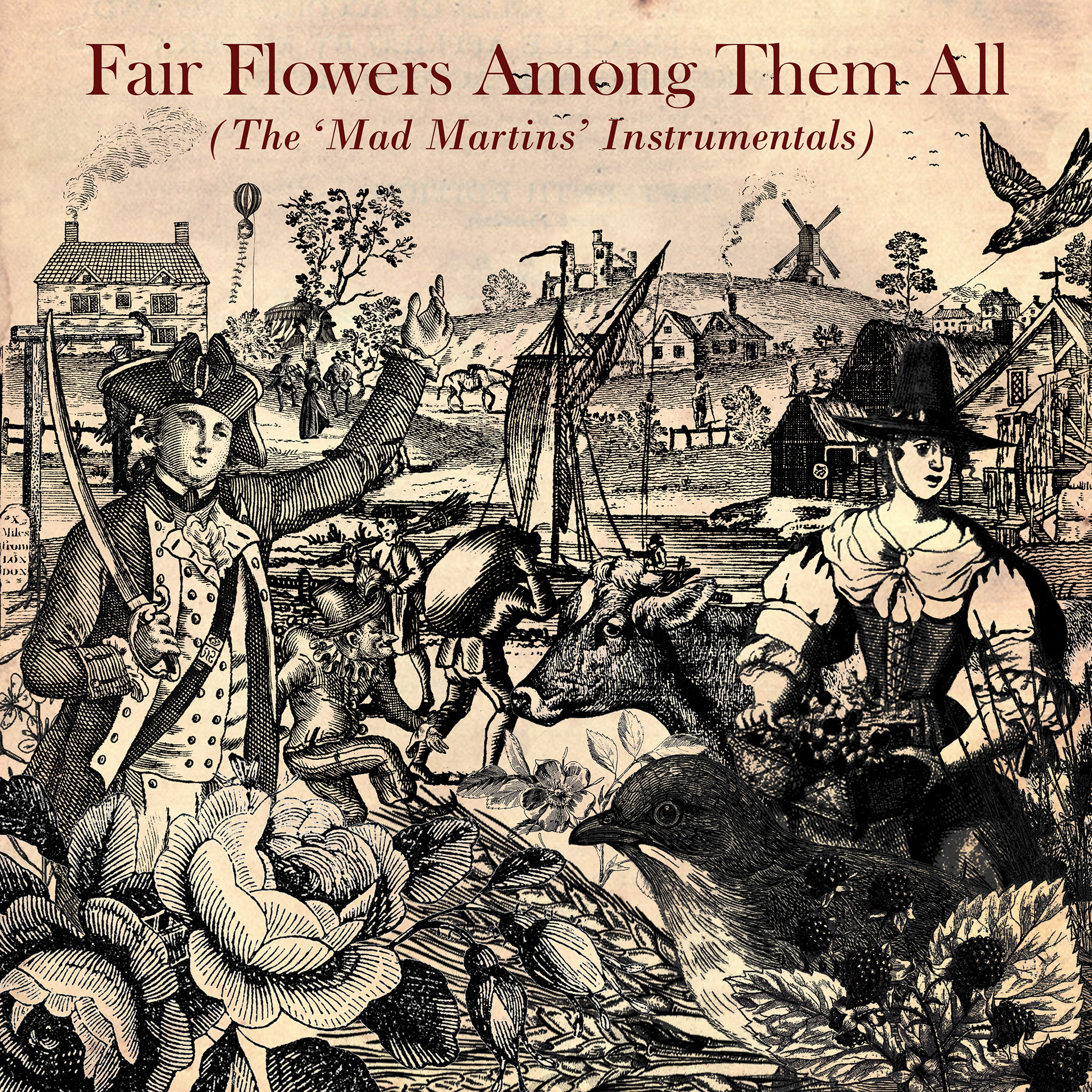 'Fair Flowers Among Them All' CD Sleeve.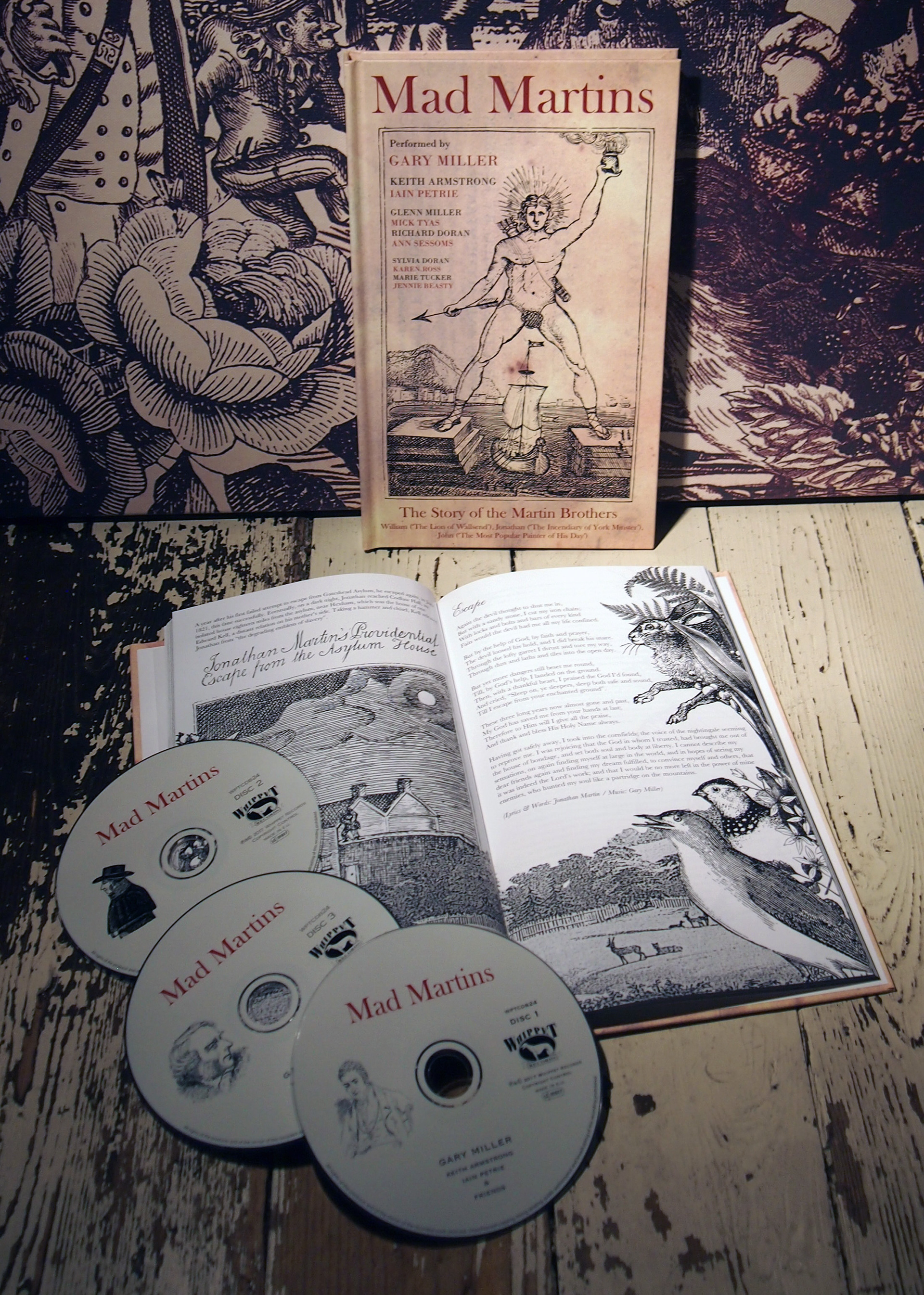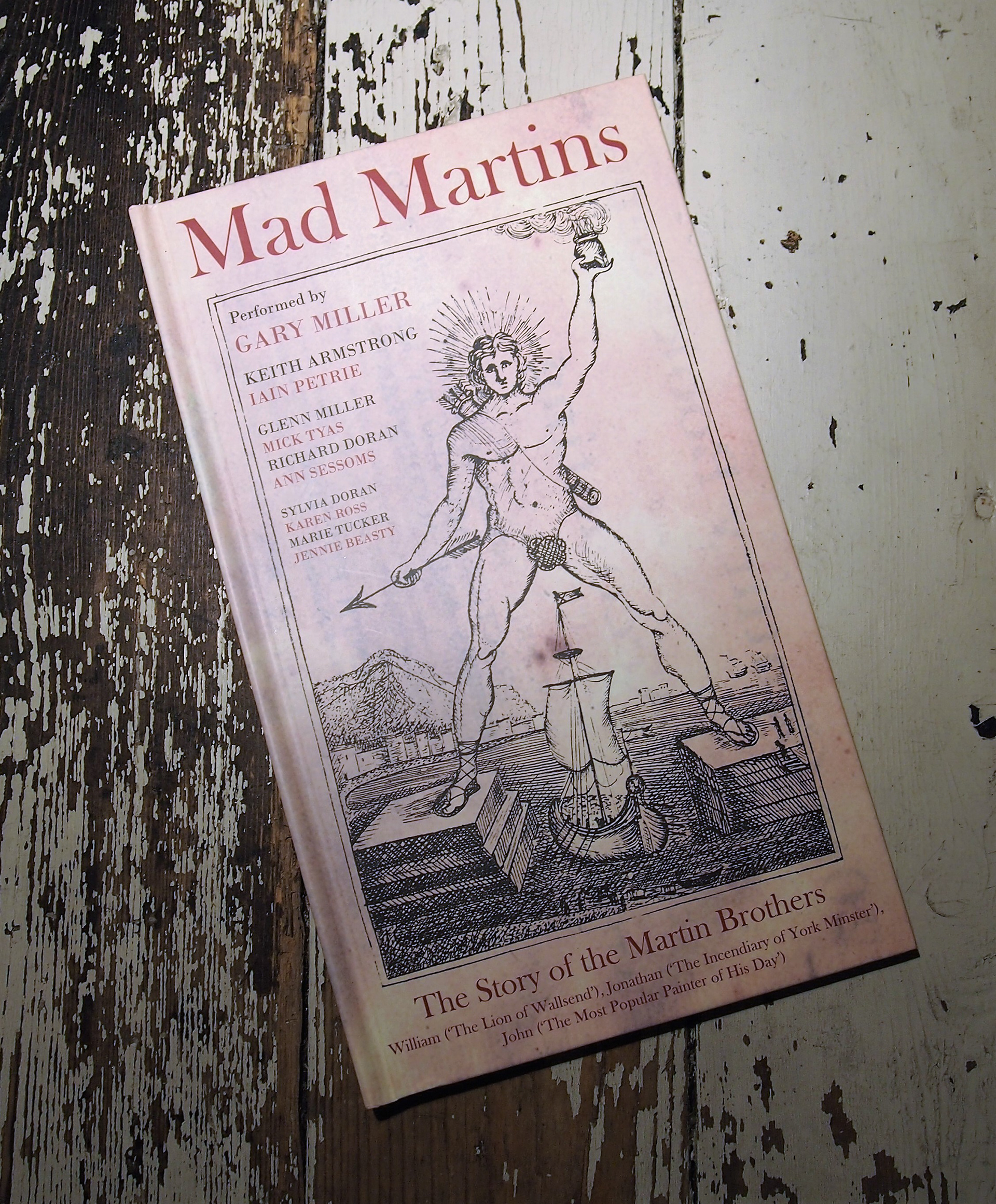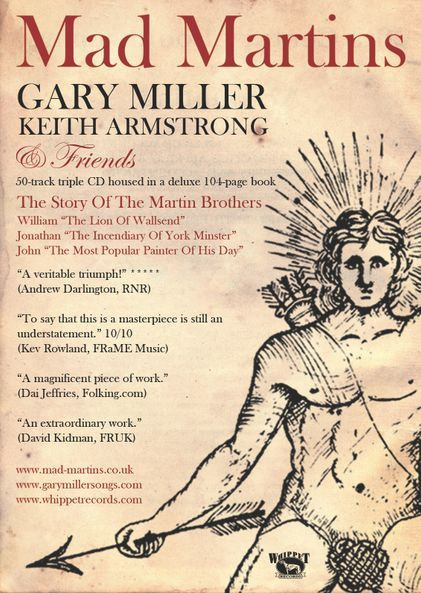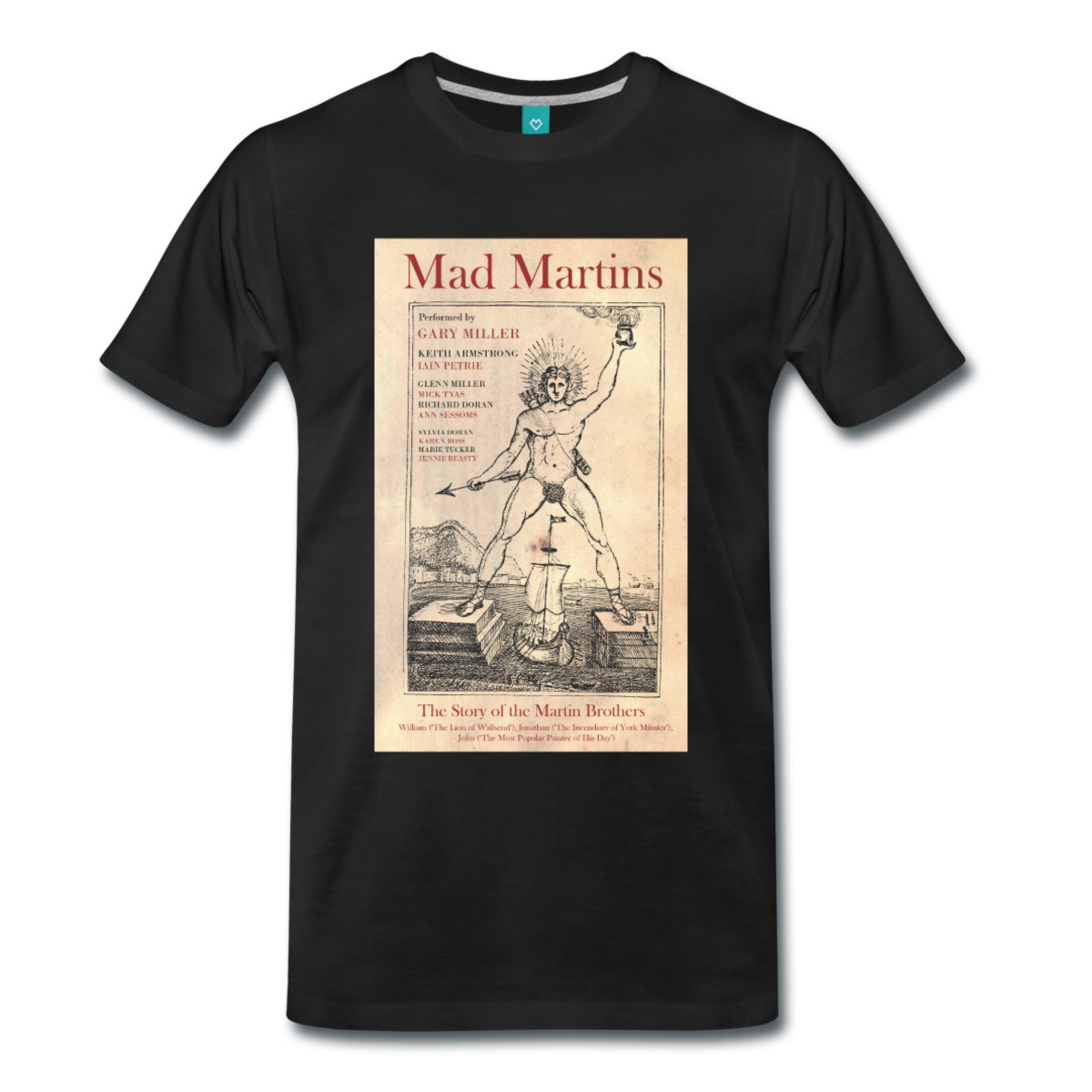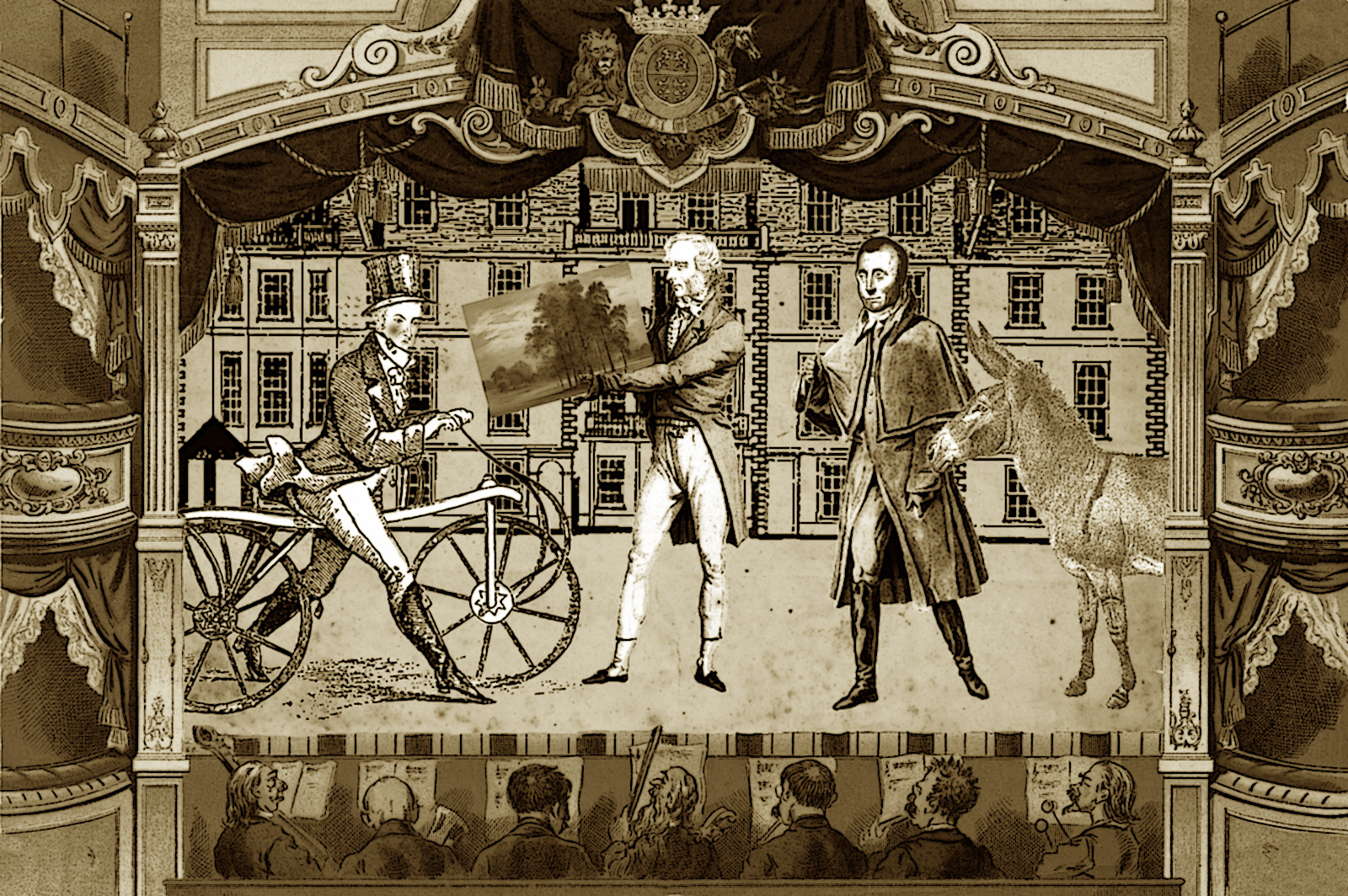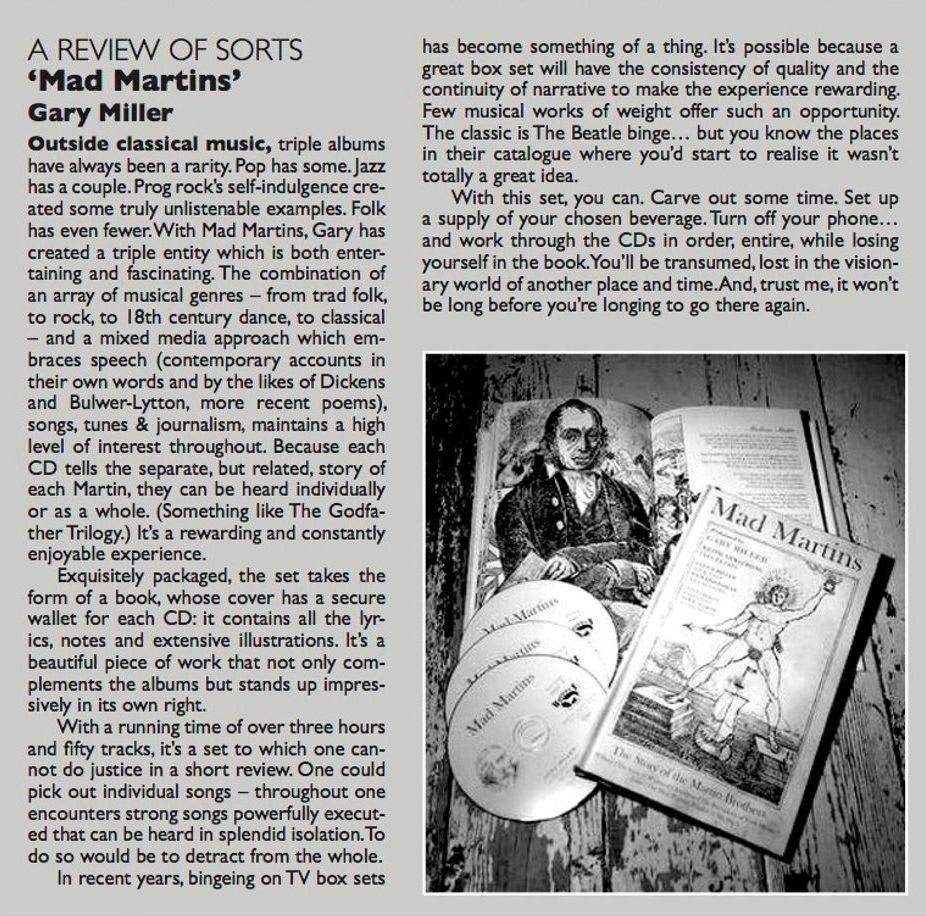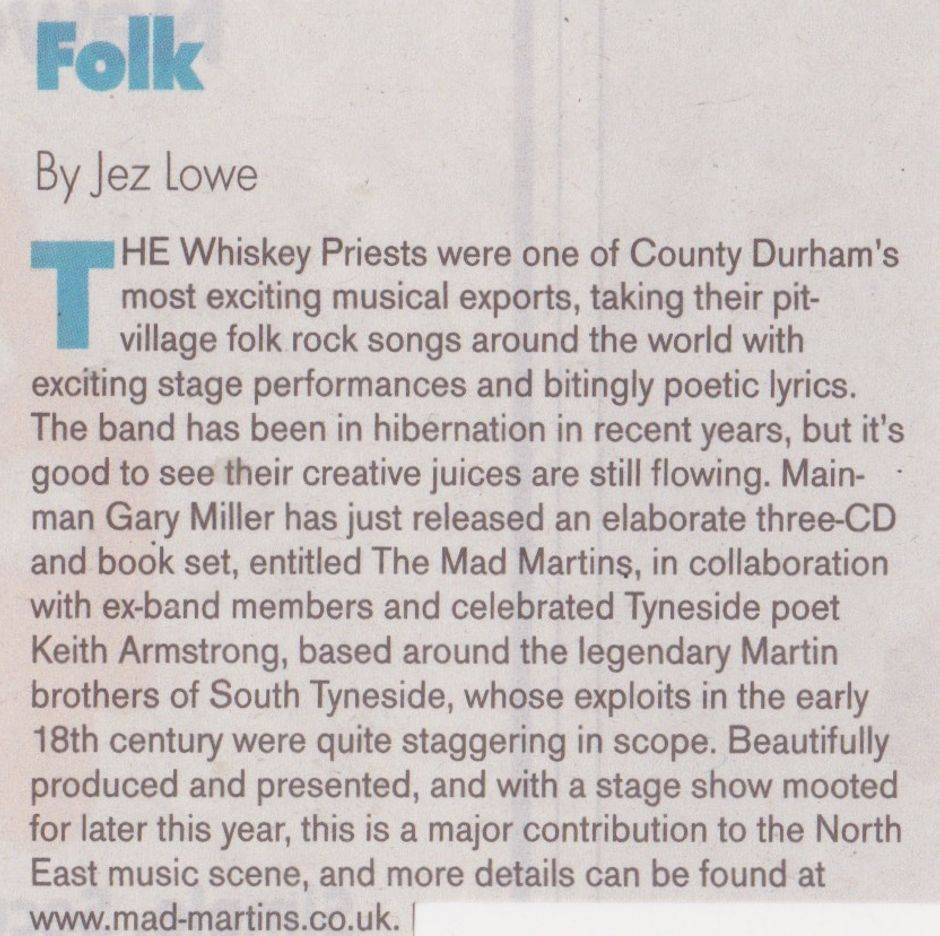 http://www.thecrackmagazine.com/view-editorial/5322

Mad Martins (Whippet Records)

I love a lavish curio and this is one such item. It's a 3-CD set based on the notorious 18th century Martin brothers: John Martin (you may have seen his epic romantic paintings of Biblical scenes in the Laing), William Martin (the self-styled "Philosophical Conqueror of all Nations") and Jonathan Martin (who famously set fire to York Minster). This 50-tracker includes music and words from Gary Miller along with Keith Armstrong, Iain Petrie and Friends, as well as a deluxe book containing lyrics to all songs, poems and spoken word pieces with extra text and related imagery. A beautifully realised package. 

https://folking.com/gary-miller-mad-martins-whippet-wptcdb24/

GARY MILLER – Mad Martins (Whippet WPTCDB24)

I shouldn't need to explain about Gary Miller but for our younger readers: Gary was lead songwriter with The Whisky Priests, a very fine (and rather tough looking) post-punk folk-rock band from the north-east. After a while away from the front line he returned in 2010 with the excellent album, Reflections On War. The first of two projects emerging this year, Mad Martins is a three-CD box set housed in a lavish hard-back book and will later be a stage presentation
I didn't know much about the three Martin brothers, although I have seen at least one of John's paintings – an enormous apocalyptic Biblical scene, probably The Day Of His Wrath. More of John later. Each of the three CDs is dedicated to one of the brothers and will be one act of the stage play, so we begin with William, the eldest brother. He aspired to be a renaissance man, sorry THE Renaissance Man, and if you want evidence of his madness, just listen to 'William Martin's Dream'. He had been a soldier and a ropemaker, became an inventor and pamphleteer and the world's greatest natural philosopher – at least in his own mind.
Now you might think that this is an odd subject for a major project but Gary's skill as a songwriter and his construction of the piece is sufficient to draw you in from the start. His style is earthy and robust and his borrowing of traditional tunes adds an extra authenticity. He handles most of the lead vocals and about half of the instruments, most of the rest being played by producer Iain Petrie. Keith Armstrong leads the important spoken word sections – Gary's accent is perhaps a little too strong – with an ensemble including Richard Doran, Mick Tyas, Ann Sessoms and Gary's brother Glenn. There is a separate album, Fair Flowers Among Them All, featuring these instrumental sections.
Next we come to Jonathan Martin: now he was mad! A strange child, by all accounts, he was first a shepherd, then press-ganged into the navy. His naval adventures are quite remarkable if his own accounts are to be believed but it allows Gary to compose a shanty and a hornpipe. Next he became a tanner and then a preacher with a remarkably anti-authoritarian take on religion. He was committed for plotting to assassinate the Bishop of Oxford. 'Shoot The Bishop' recounts the circumstances that brought this about. Remarkably, he escaped the asylum twice and his next plan was to burn down York Minster. He set the fire and escaped but was captured and committed to Bedlam where he died.
Again, Gary blends original songs with Jonathan's own words with two extracts from writings by Charles Dickens and traditional tunes. The whole disc rocks along and you almost feel some sympathy for Jonathan by the end.
John Martin probably wasn't mad but he heard the Word of God. He's probably the most famous and the most enduring of the Martin brothers as his monumental biblical paintings attest. Like William, John was something of a polymath; one of his projects was a sewage system for London, related in earthy relish in 'Drainage Scheme'. His ideas inspired John Bazalgette who designed the system that is still in use. On this final disc, Gary looks to Keith Armstrong for many of the spoken word sections.
As a painter, John was a friend to royalty and Gary's music has an appropriately bombastic tone which is where the orchestration of The Albert Ness Ensemble and The Lick Spittals' horns come into their own. Despite his success, John fell into poverty and the later songs have rather simpler accompaniments but he fought back beginning with The Coronation Of Queen Victoria before died peacefully in1855.
Mad Martins is a magnificent piece of work, transcending both the traditional ideas of folk-rock as represented by The Whisky Priests and the established view of what a singer-songwriter should be. It isn't inexpensive, as you might imagine, but it's worth every penny that you spend on it.
Dai Jeffries

http://www.fatea-records.co.uk/magazine/reviews/GaryMiller2/

Phew! Where to start to describe this long awaited and quite astounding endeavour?
Perhaps at the beginning? Back in the 1970's when the idea to depict the lives of the three notorious and characterful Martin brothers of South Tynedale was initially conceived by Tyneside poet Keith Armstrong through a performance of poetry and music with an accompanying slide-show.
Or maybe in 2002? The year when Keith approached highly respected north eastern songwriter Gary Miller with a view to updating and developing 'Mad Martins'? The newly expanded project was performed to enthusiastic audiences a number of times but then laid fallow until 2011 when it was once again revived.
No - let us fast forward to late 2017 when, following intermittent progress over the previous six years, the physical manifestation of the project echoed through my hall as it dropped from the letterbox onto the tiled floor. For this is a work as substantial as it's genesis suggests.
On opening the packaging, the lengthy period of anticipation was amply rewarded by a beautifully presented and lavishly illustrated 104 page book designed by Helen Temperley. The book contains lyrics to all the songs, poems and spoken word pieces, with additional inter-linking text and many attractive historical images, including paintings, engravings, sketches, illustrations, and original artwork. My only initial concern was that the contrast between the texts and the illustrated backgrounds could make legibility an issue for those, like me, with less than perfect eyesight. This issue has been acknowledged and I am pleased to say that all lyrics, poems and texts are available via the Mad Martins website.
The three CDs are safely tucked into pouches behind the front and rear hardback covers and the overall approach to the presentation reminds me very much of that taken by Jordi Savall and Hesperion XXI in their CDs and books on the Alia Vox label and, believe me, there is no higher praise I could bestow.
At the beginning of the set a single song introduces the lives of the three brothers through a prophecy made by their mother, Isabella, who stated on her death bed that her family's name would be known from pole to pole. A verse apiece is dedicated to each son and their achievements providing a taster for the detailed stories to come.
First up is youngest brother William Martin much of whose life was dedicated, following a short military career, to philosophy, invention, experimentation and constant endeavour to disprove Newton's theories. The fundaments of his own scientific beliefs are set out in the rousing song 'God and Air'. His long suffering and 'inoffensive' wife, who seemingly tolerated his dreaming and enthusiasms with little complaint, is also rewarded with a song of her own.
Middle brother, Jonathan, appears to be, if anything, even more of a character who, after a spell at sea, embarked upon a career of non-conformist religious zealotry, which included a plot to assassinate the Bishop of Oxford (which elicits the darkest and most inventive song in the collection - full of threatening percussion, delay lines and atmospherics) and an arson attack on York Minster. He died following 9 years of incarceration in Bedlam Hospital in London.
John Martin's fame has lived on long after the others as a great painter of biblical and historical scenes. Anyone familiar with his magnificent, awe inspiring works (as described perhaps most effectively in 'Searching for the Waters of Oblivion') will, like me, find delight in learning more about the man and his other great passion - engineering.
All three biographies are told through a mixture of Gary's direct yet eloquent songs and Keith Armstrong's prose, poetry and readings from contemporary accounts often underpinned by traditional tunes. The varied style of the songs and their accompaniment, and the content of the lyrics, poetry and readings, when combined with the text and pictures in the book, make for a constantly rewarding and educational experience.
As well as Gary and Keith, other notable vocal contributions come from Mick Tyas and, especially, Marie Tucker, whose beautiful voice makes 'Maria's Testimony' another highlight of the collection. I would have been very happy to have heard more of Marie and hope that some of Gary's future work will include contributions from her.
The instrumental CD, whilst not essential to the telling of the stories, is a worthwhile addition to the set as it gives the opportunity to hear the well played tunes without dialogue overlaid.
In this review I have deliberately not provided a long list of song descriptions, or expanded on the biographies as told through the book and CDs, as I think it is important for those who take the plunge into the brothers' history do so with the same curiosity that I felt when I started my journey through their lives.
As well as those individuals already mentioned, there is a long list of contributors to the project acknowledged in the book and they have all made their mark most effectively. I would, however, single out the producer, engineer and, it would appear, joint driving force behind the enterprise, Iain Petrie whose work has ensured that all the constituent elements, with their varied instrumental and vocal dimensions, coalesce into a satisfying whole.
In conclusion, this is an essential purchase for anyone interested in the cultural and scientific history of the North East of England as well as being a significant addition to the folk canon. Everyone involved should be proud of what they have achieved and I very much hope that the proposed theatrical presentation of Mad Martins comes to fruition.
Joe Grint

https://rockingmagpie.wordpress.com/2018/01/27/gary-miller-the-mad-martins/

An Epic Tale of  Three Geordie Brothers Who Changed The World.

Normally traditional 'finger in the ear' Folk Music bores me to tears; but very occasionally something comes along that captures my attention and yet again it has come from the mind and pens of Folk singer-songwriter Gary Miller and acclaimed poet Keith Armstrong; two NE Legends..
The story of The Mad Martins meant nothing to me in late 2017 when this amazing package (including a triple album and an extra instrumental cd) arrived; but I've had my mind truly expanded over the last four weeks.
Who knew that three brothers from the South Tyne would and could have such an effect on British history in the 18th Century?
Starting with Three Mad Martins (Prophecy) Gary inhabits the spirit of the son's mother over a traditional Geordie toe-tapper of a tune and the scene is set for a rip-roaring tale of men who would go on to become ' a "Philosophical Conqueror of all Nations" and a doggerel poet, pamphleteer, engraver and inventor (William aka 'The Lion of Wallsend'); "the notorious incendiary" of York Minster in 1829, prone to frequent fits of rage against the clergy, including an attempt to assassinate the Bishop of Oxford leading to his committal to several lunatic asylums (Jonathan), and the youngest, John who devised sewage schemes for London, along with a number of other inventions but is most famous for
his epic New Romantic paintings of Biblical scenes. One of these, 'Pandemonium', based on Milton's 'End of the World', sold in 2003 for a record £1.65 million!
Part entertainment and part history lesson, the word 'epic' only comes close to describing the way the story is told in song, word and verse with some stunning artistry in the background from an array of musicians.
The Mad Martins, in true Folk Fashion is told in three 'Acts' beginning with William's story then Jonathan and finally the successful painter John.
Choosing individual songs to point you towards is bordering on the impossible; as this is a 'musical story' and is meant to be heard in one long session; and by jove it works…..I actually sat listening intently as the stories unfolded in a way that beggars the regional nature of the subject matter.
But select I will, because that's what I do!
On disc #1 Poet Keith Armstrong's speech 'On Libraries' is fascinating and who among us can resist a title like 'Cure For Cholera' but again Keith's warm Geordie voice makes a weird subject very entertaining; trust me. But the winner on this first disc is the Folk Rocker William, You Were Really Something …..ok, the title nods towards the Smiths but Gary breaths new life into an exciting period in our nations history that owes everything to a Geordie Genius!
Disc #2 is Jonathan's story and opens with a nautical theme; I have to say I was disappointed (not really) with In The Navy as it isn't the Village People version; but a hornpipe; but Jonathan's tale takes on a really exciting path with Blood, Fire and Smoke and the rollicking Madhouse Martin; but there's a golden love story thread too, with Keith's poem Jonathan's Departure from Maria being followed by the beautiful ballad Maria's Testimony, which actually does stand out as an individual song that could be played on the wireless.
It's fascinating to note that two of the tales here are Keith Armstrong reading from Charles Dickens' letters 'On Visiting Jonathan in Bedlam Asylum.' Again; why didn't I know this story? I studied Dickens for O'Levels many years ago and knew he visited the North East; but this wasn't part of any of the books I was forced to read.
As you might expect, the mood and tone picks up on Disc #3 John Martin's story. There's a jaunty, even ragtime feel to Picture of the Scriptures and In My Hands sounds like it could be from a Cameron McIntosh music theatre piece; but then again the whole story and the way Gary Miller (and friends) presents it has a feel of a Northumbrian Les Miserables about it; with the final three tracks starting with the larger-than-life Pandemonium looking back on the brothers story on the day of the painting's sale then Keith pulls all of the strings together with a ghostly tale THREE MAD MARTINS (epitaph) before he closes the story with another gorgeous 21st Century poem At Anchor that has it's soul in a story of a family over 200 years previously.
I'm nearly lost for words now; I knew nothing of this story and feel obliged to read more deeply into it but more importantly this magnificently packaged Triple Disc box-set deserves a much wider audience than Gary Miller and Keith Armstrong's loyal fan base; the story and they way they tell it deserves a much bigger and indeed national stage; all it needs is a generous benefactor; because if Sting can get his tale of the Wallsend shipyards onto Broadway then there's indeed hope for The Mad Martins; now where is my lottery ticket from last night?

https://www.folkradio.co.uk/2017/12/mad-martins-album-review/

Mad Martins: The Story of the Martin Brothers

Whippet Records – 2017
Mad Martins is an ambitious, and rather special, project. Essentially the brainchild of Tyneside poet and cultural historian Keith Armstrong, it depicts the lives (and, by extension, the times) of the three Martin brothers – William, Jonathan and John – who were born in the late18th century (in 1772, 1782 and 1789 respectively) in the South Tyne area of Northumberland. Each of the brothers was a visionary who nevertheless achieved a degree of notoriety (in Jonathan's case also embracing a certain status of madness) during his lifetime. William, "The Lion Of Wallsend", self-styled "Philosophical Conqueror of All Nations", was an engraver and inventor; Jonathan, a religious fanatic, was "the notorious incendiary" of York Minster; and John was both a town planner and an acclaimed painter of epic scenes of cataclysmic Biblical events.
The project tellingly brings together songs, poems, narration, music and art. Thus, in order to appreciate its scope and splendour, you definitely need to experience the whole package – a set of three CDs housed within a deluxe hardback book. A useful adjunct in the form of a complementary (fourth) disc presents all the instrumental backing tracks to the various spoken-word pieces on the main triple-CD set, together with the orchestral backing track to the song In My Hands. And there are plans for a full-blown 2½-hour theatrical performance of Mad Martins in 2018…
Mad Martins' musical director and coordinator is songwriter Gary Miller, whose principal claim to fame is the founding, in 1985, with his twin brother Glenn, of cult folk-rock legends The Whisky Priests. The band lasted through until 2002, shortly after which Gary was approached by Keith to update and develop his own original concept (poetry and music with accompanying slideshow) for a new audience. Quickly enthused, and armed with a wealth of research material supplied by Keith, Gary proceeded to pen (in the space of about a fortnight!) around a dozen songs to add to the poems Keith had previously written for the project, making up a 90-minute set list of material for presentation to a live audience. This was premièred in October 2002 as part of the Northumberland Traditional Music Festival, featuring performances by Keith and Gary accompanied by Glenn on accordion and Chris Ormston on Northumbrian pipes. A handful of further minor revivals followed (albeit with a long hiatus due to various personal circumstances); Gary was then inspired to conduct further research into the Martin Brothers and to write an additional batch of songs.
Finally, at the beginning of 2013, Gary decided it was time, at last, to accord the project what he felt was its rightful due, and began recording sessions for the Mad Martins album with his friend and former collaborator Iain Petrie producing. These sessions continued sporadically well into 2014, with additional contributors Glenn Miller, Mick Tyas, Richard Doran and Ann Sessoms coming on board. By which time, the initial plan to release the project as a single CD had expanded to a full three-act enterprise necessitating a triple CD with an accompanying book, for which acclaimed artist Helen Temperley was commissioned to provide the design. The high production values of the visual package are mirrored in the engineering, which sports fabulously detailed sound (expansively widescreen where necessary) that nowhere fails to make an impact, chiming closely with Keith's artistic vision and Gary's musicianship in ensuring the listener is kept engaged throughout.
The portraits of the three Martins, involving a broad gamut of emotional situations, naturally afford ample opportunity for the exercising of Gary's proven songwriting skills. Gary has a real flair for conjuring imagery from the past with a gritty reality. He possesses an inbuilt and empathic understanding of social history, which is voiced in direct tell-it-like-it-is language (not lacking in literacy or lyrical expression, however), boosted by a keen sense of melodic invention, manifested in canny tunes and often seriously catchy choruses. There's also a strong regional (north-east) folk sensibility within Gary's songwriting that's key to the memorability of his songs. Yet while he utilises basic elements of traditional instrumentation (acoustic guitar, mandolin, accordion, dulcimer, bouzouki) to provide a feisty bedrock, he's also not afraid to stir things up imaginatively with the judicious incorporation of extra instruments (here, individual guest musicians playing occasional fiddle, trumpet and bodhrán as well as some "improvised percussion", a horn combo and an orchestral ensemble, and Iain himself supplying a whole array of less-traditional textures including rhythm section, electric guitar, keyboards and a modicum of programming). All of course effectively tailored to the mood and character of each episode of the protagonists' life-histories.
Act One (William) opens with a scene-setting introductory Prophecy, jauntily done in the manner of a street-corner broadside-ballad; The Leaping Swordsman is replete with swashbuckling derring-do; God And Air is a full-on anthemic declaration; In Dreamtime is a tender vision of inspiration; The Dandy Horse (an early "travelling machine") trots forth with pompous tread; Medals takes a cheeky Johnny Cash riff and a punk charge in its portrayal of William as a figure of ridicule proudly wearing his inventions on his chest; and finale-summation William, You Were Really Something is an almost jolly, affectionate singalong-pop-style tribute to the man's enterprise. The seven sung tableaux are interspersed with complementary spoken-word narrations expounding different aspects of William's interest-base, involving idiosyncratic observations on other disparate matters such as libraries and a cure for cholera. Together these items provide an entertaining and well-rounded portrait of William Martin, a complex character with many facets and concerns who's been (perhaps unfairly) dismissed or widely ridiculed.
Act Two (Jonathan) presents a less overtly lovable eccentric, a religious fanatic of an altogether more self-destructive bent. Individual episodes in his decidedly picaresque life are vigorously presented here. Jonathan's early experience In The Navy is done as a rollicking heave-ho shanty-hornpipe; "Shoot The Bishop!" recounts Jonathan's failed attempt to assassinate the Bishop Of Oxford; Four Bare Walls sees his committal to an asylum; Escape gallops away with the whip-crack of a spaghetti western; My "Life" apes the style of a Joe Meek story-song (complete with cheesy Tornados organ solo!); the Dylanesque Blood, Fire And Smoke is the epic Ballad Of An Incendiary that loudly curses and denounces; Maria's Testimony (with guest vocal by Maria Tucker) is a lyrical Irish-folksong-style character portrait; the a cappella At The Assizes sets Jonathan's defiant pre-indictment "Bring it on!" speech, which is further developed by his self-assessment Madhouse Martin; and A Painting For Charles voices Jonathan's vindication (to Charles Dickens) of his actions in setting fire to York Minster – on the instruction of a vision. Once again the passages of spoken-word narration inform the principal biographical narrative, and the whole is a satisfying sequence that presents the story of this potentially unsympathetic man with insight and sympathy.
Act Three (John) differs from its predecessors in that it depicts a personality who (at least for a time) achieved a healthy measure of recognition for his good works and successful accomplishments. Searching For The Waters Of Oblivion conveys the humility of John's awe-struck artistic inspiration; The Paint And The Pain, with its strutting Pete-Townshend-style guitar riffing, well conveys the proud yet tortured artisan; the folksy The Thin Veneer (a duet with Karen Ross) takes its cue from rueful reflection on later penury brought on by providing financial assistance to bail out his brothers' misfortunes; and Pandemonium explores the much more recent resurgence of interest in John's apocalyptic paintings. These are some of the strongest songs in the project, the downside of which is that this third portrait seems, by comparison, less consistent and more uneven in its invention as a result. Weaker songs don't entirely convince – the swaggering Picture The Scriptures may be an honest self-assessment, but its throwaway setting has a slightly hollow ring to it, and the would-be-epic big-production number In My Hands is set to a mock-baroque sinfonia and feels a touch too pompous, underplaying John's humility in his moment of triumph.
So there we have it. Mad Martins is a concept album, yes, in the grand tradition – but largely without the more unfortunate excesses and trappings of that (sometimes deservedly maligned) genre. Aside, that is, from a small degree of over-indulgence, in places, in vérité sound effects (exploding fireworks, bubbling sewage etc), which to my mind undermines and needlessly clutters the listening experience. Importantly, Mad Martins sports a splendid package that fully befits its major-project status and the epic scope of its subject. It's housed in a sturdy, lavishly illustrated 104-page book that includes full lyrics for songs, poems and linking text, also a valuable, and admirably comprehensive, "select" bibliography for further reading, all set attractively amongst relevant artwork, period illustrations (all listed and fully credited) and sundry ephemera. In particular, those listeners who are not familiar with John Martin's paintings will find the reproductions a revelation – even if their full magnificence and splendour is not revealed in monochrome (but hey, I can well appreciate that the extra cost of colour reproduction would have been prohibitive). I might say that if fRoots magazine was still offering an Award Category for Best-Packaged Albums Of The Year, then Mad Martins would be a very strong contender indeed, if not an outright winner.
Mad Martins is no one-dimensional portrayal hastily cobbled together to cash in on some spurious anniversary, but a genuinely stimulating cultural artefact, born of an inspired collaboration of like-minded creative artists. The device of integrated narrative backed by traditional tunes provides a highly effective unity and consistency. For, out of the energising catalyst of Keith's poetry and narration, Gary and Iain have together produced an extraordinary work, an educational experience that both informs and (royally) entertains (now where have we heard that dictum before?). It also happens to contain some great music and songwriting that bears both specific relevance to its subject and a definite resonance for our times.

Today I got the Mad Martins and I cannot tell you how happy I am. This is such a magnificent project and I am unable to thank you enough. The book is stunning, the music outstanding and the whole concept I find amazing. I first came across the Martin brothers completely by chance. My daughter was in Durham University. I live in London but we are Irish. Once I drove up to Durham to pick her up and bring her with me to Scotland to get the ferry. 
We drove to Stranraer along Hadrians Wall essentially, and as we drove through Hexham, I began to wonder aloud at its etymology. I wondered if it had any relationship with hex, and therefore witchcraft. Trea, my daughter, googled it and found in the Wikipedia page a list of people from Hexham. One name stood out, Jonathan Martin ( arsonist). We looked up one after another of these brothers. We were instantly fascinated. Although I was wrong about the magic etymology, there was some kind of magic involved because my daughter and I are still under the spell of these extraordinary brothers, as you so clearly are as well. Since then I have tried to get my hands on anything that deals with them. Without any doubt this is the finest thing I have seen about them. Congratulations to you and everyone involved with the project. You have done your subjects full justice and a real service. When you look around you and see the runaway success of the most egregious rubbish and the signal failure of such high quality work as this to make any significant impact, I fear we are still in a world which the brothers would have recognised. A world where genius is not recognised.  
You have produced a work of genius. Thank you. 
(Paul McAuley, Martin Brothers afficionado).