The Butcher Baronet - Documentary Film
.
This illustration originally started life as part of 'Northern Grit', a collaboration between G
ary and
H
elen,
but quickly expanded into something much bigger than the original proposal.
Gary and Helen met with Paul Stainthorpe, Founder and Director of Lone Pine Pictures, appropriately at the John Duck public house in Durham City in November 2018 to discuss an unknown project that Paul was due to propose. This turned out to be his plan for Lone Pine Pictures to develop and produce
'The Butcher Baronet', 
a documentary film about the tale of John Duck. 
The plan was for Gary and Helen to respectively create new songs & pieces of music alongside a series of illustrations specially for the project, which would be an exciting cross-arts collaboration of film, music and art.
Coincidentally, just prior to their meeting at the John Duck, Helen had delivered a couple of art workshops with the 
Monday Art Group in Lanchester, County Durham, 
focussing on the story of John Duck. These workshops provided a strong impetus and inspired Helen to create an initial piece,
'John's Jacobus (A Tale of Durham's Dick Wittington)'
[right]. They also inspired Gary to come up with a couple of songs - 'The Butcher Baronet' and 'John's Jacobus (Inscription). In fact, it seemed like this project was somehow meant to happen.
Meanwhile, shortly afterwards, and in the space of only three days, Gary went on to write a further 6 songs and pieces of music for the project. A handful more quickly followed. Within a matter of weeks, Gary had created a full song-suite encompassing the entire story of the legendary John Duck, expanding the initial project idea into a fully-realised 'Folk- Opera' through a collection of around 30 songs and pieces of music, including the use of several Northumbrian tunes dating from the 17th Century during the time of John Duck. Gary and Helen are currently working to bring this project to fruition with a 2-hour performance and a double CD album and book. More on this soon! 

The original illustration for the Lanchester Art Group workshop session.

The Butcher Baronet official trailer, included Gary's song, entitled 'The Butcher Baronet -  (Soundtrack Version)'

 A few shots from our part in the filming of the documentrary, at the John Duck Alehouse, Durham.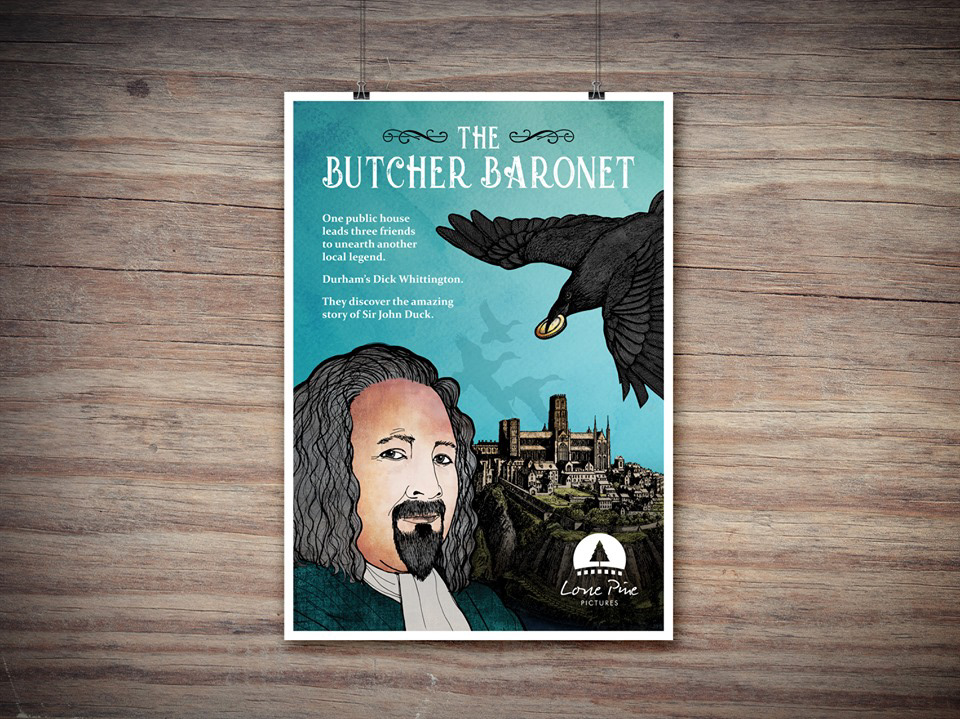 Promotional material and product use of the illustration (Graphic Design: Paul Stainthorpe at Lone Pine Pictures)
Film Premiere at The Gala Theatre and Cinema, Durham City, 28.10.19